How to Make Namak Paare By Food Frenzy Ariba
Namak paare is a dish which always reminds us of our childhood and mother.
Updated on March 16th, 2019

Namak paare is a dish which always reminds us of our childhood and mother. This quick snack recipe has always been a common snack item in our households. Our moms would always have a jar full of these savory strips to munch on. Served with tea or prepared specially on the occasion of Holi, it is a timeless dish. By now, you must be tasting nostalgia with a smile.
Namak pare or namak para are basically made using all-purpose flour and ghee. The recipe of Food Frenzy By Ariba is simple but it requires the right amount of ingredients and timings to make it perfectly crisp. So, follow it carefully.
Ingredients
👉 1 ½ cups maida (All purpose flour)
👉 1 ¼ tbsp Ghee (clarified butter)
👉 ¾ to 1 tsp salt
👉 1 ½ tsp carom seeds (ajwain)
👉 Oil for deep frying
Method
👉 Mix together flour, salt, carom seeds and ghee. Nicely rub the flour well in between your palms.

👉 Add water as needed and make a stiff dough. Taste the dough and check the spice and salt level, if needed add more.

👉 Knead it well and divide the dough into 4 parts and roll them into balls. Keep them covered with a moist cloth.

👉 Grease the rolling board. Begin to roll the ball to an 8 to 9 inch even chapati/roti.

👉 With the help of a knife or a pizza cutter, begin to cut vertically with 1 inch apart straight lines.

Begin to cut from the corners to get diamond shaped.

👉 Heat oil in a deep pan on medium heat. When the oil is hot enough, not smoky hot, begin to drop a few at one time. Immediately stir with a spatula. Do not crowd too many into the oil at one time. Keep stirring to fry evenly until golden and crisp. Fry them in batches.

👉 Transfer namak para to a plate lined with kitchen tissues. Drain and cool them. Store in an airtight jar.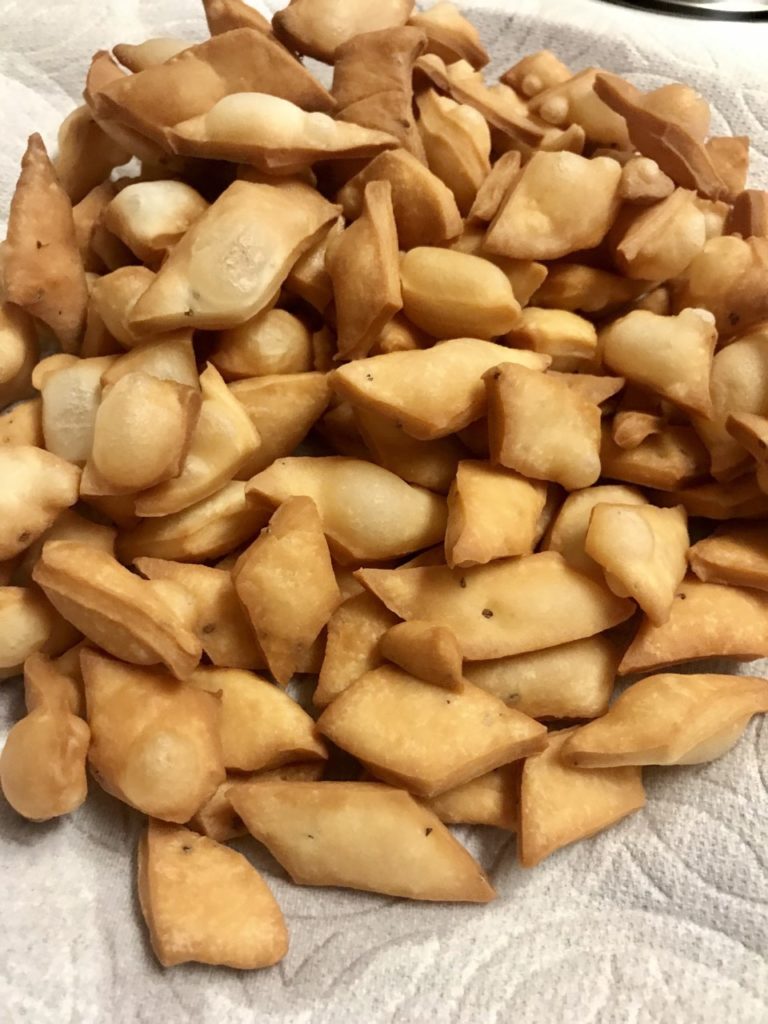 Comments