Setting a travel budget, booking a flight, and reserving a hotel accommodation are the major tasks to finish before going on vacation. With incalculable Hotel sites available on the Internet, it is tough to seek the range of the finest hotels. The below list of the 10 best hotel sites will save you from scouring the hordes of hotels on Google. Each site offers distinct search features and a great variety of Hotels. 
Google
Yes, you heard right. Instead of wandering in the vast ocean of hotel booking sources, how about going for the hotel search engine by Google?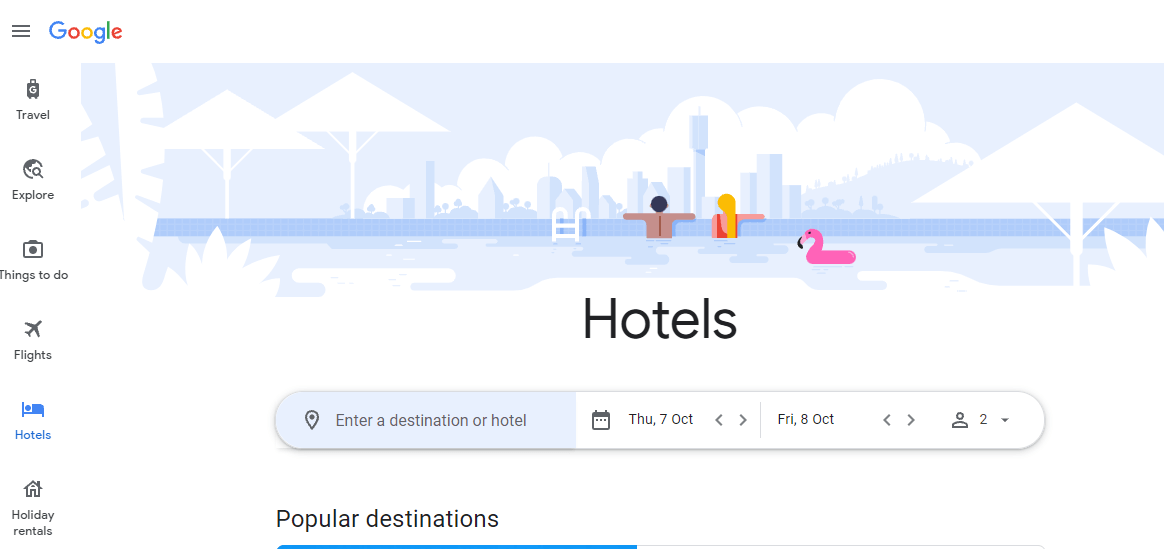 With the inclusion of Google maps, street views, and satellite images, the hotel finding process in a particular location becomes easy. You can search hotels in the desired destination directly on google.com. On the map, the engine displays hotel locations that show prices. By clicking on the price, it will display the name, facilities, and other hotel details. In this way, Google is quite effective in finding a hotel based on your budget in India and abroad.  
Booking Dot Com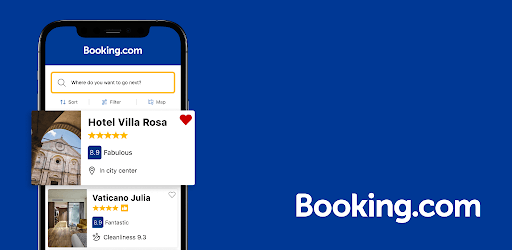 Booking.com is a renowned and trustworthy site to look for hotels in India or elsewhere. With numerous filter options, the users can narrow their search to find a hotel that suits their budget. The impressive thing about the Booking.com site is its range of accommodations like hostels, apartments, hotels, and B&Bs. With high-quality pictures of hotels, a wide budget range, and thousands of hotel reviews, Booking.com is undoubtedly one of the best hotel booking sites on the web. 
Agoda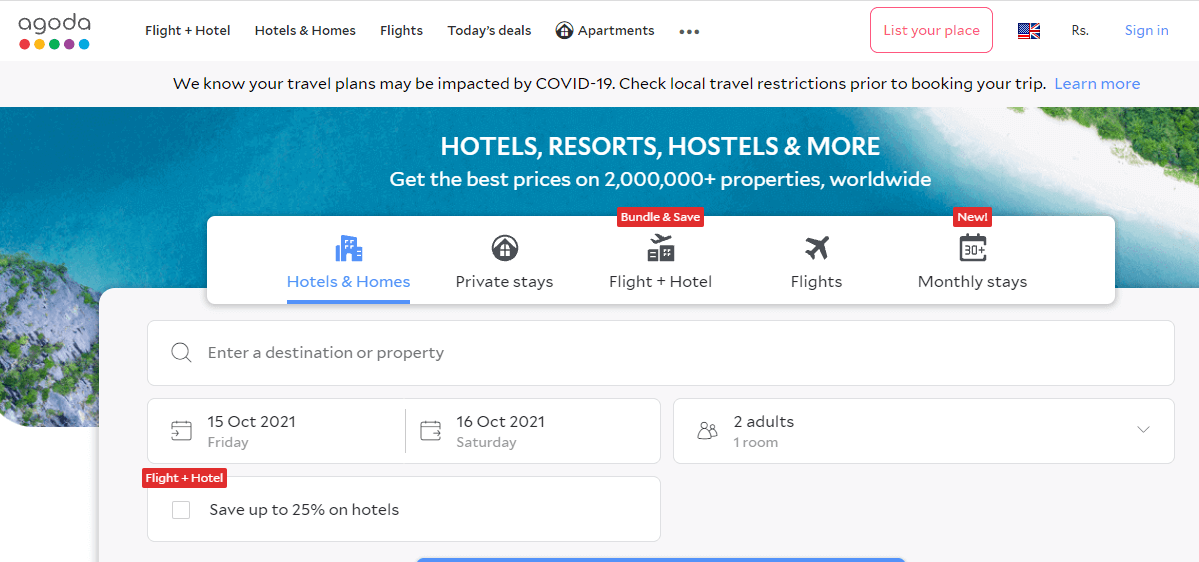 Founded in Thailand, Agoda now gains a worldwide reputation. For Indian tourists, this can be a dependable medium to get better hotel deals.
With options like Best Match, Secret Deals, Top Reviewed, and Lowest Price First, selecting the best hotel accommodation is made simple. 
The interface of Agoda is easy to understand and operate. It is a worth-trying site to surprise you with less booking cost at times, if not all the time. 
TravelPony
TravelPony is another noteworthy site to chip away the whopping list of hotels and reach the best match for your budget. Sort your hotel by popularity, distance, discount, guest rating, and more. TravelPony also lets you select from a range of property types like villas, resorts, lodges, hotels, farms, and guest houses. It also digs into lesser-known hotel sources. This site comes with a wide range of filter options. 
Priceline
Priceline is a travel booking website that makes you linger a little longer on it. That is due to the tidy and user-friendly interface. You can gain in-depth information about hotels that include amenities like free wifi, spa, Airport Shuttle, Fitness Centre, and more in India and foreign countries. The site has features similar to the best international hotel sites on the Internet. Moreover, 'Name Your Own Price' and 'Express Deal' are exclusive features of Priceline. These features turn out to be of great use if you give preference to the best hotel deals over hotels while booking.  
Hotels.com


As the name suggests, Hotels.com is all about hotels. From the basic search of low-end and high-end hotels to a more narrowed search, hotels.com offers everything you need to know while selecting a hotel. It provides an exceptional user experience as it lays out adequate hotel features like amenities, landmarks, facilities, accessibility, and even themes/ types like Luxury, Spa, Hot Springs, and more. With all the additional filter options, Hotels.com also provides a reward program. The program offers one night of free stay after ten nights of occupancy.
Trivago
Trivago is a popular name when it comes to booking hotels online. In India, a lot of people prefer Trivago to find the best hotel deals. The site searches and compares the prices of well-known as well as some lesser known hotels. It ensures that you get the best prices as per your budget. Moreover, the Trivago map feature enables the users to search hotels as per their required locations. 
Tripadvisor
Tripadvisor has extensive information about hotels. It helps you find great deals by conducting a thorough search of a lot of hotels. 
Reading hotel reviews beforehand leaves an impression in the traveler's mind. It makes the booking process more exciting. Tripadvisor is one of the leading platforms to provide a lot of hotel reviews. 
Yatra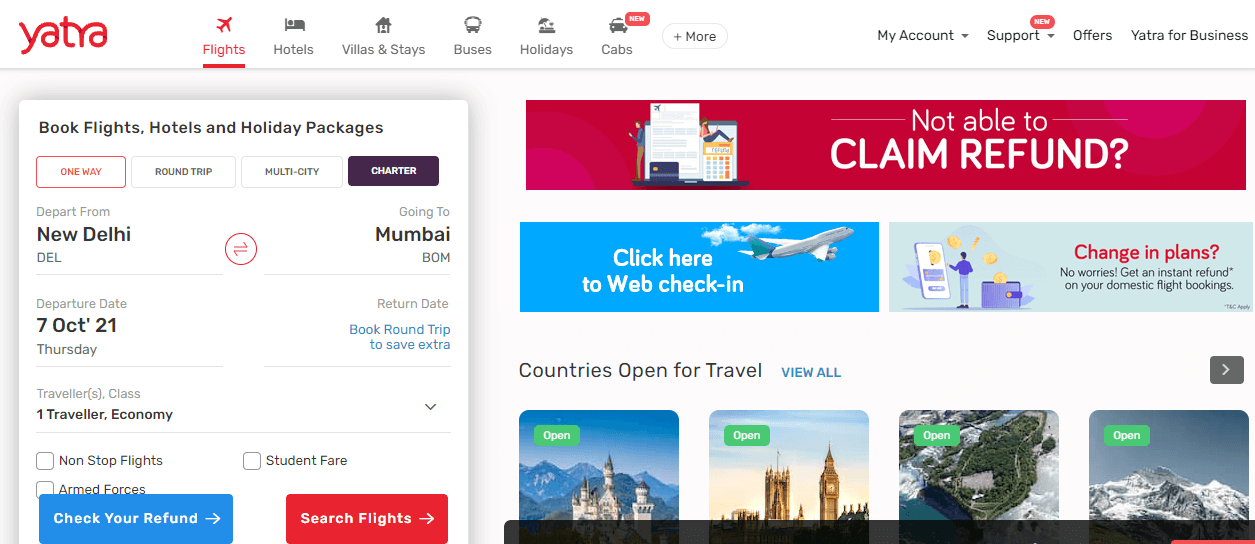 Yatra is another reliable site to look out for hotels. It is popular among Indian travelers. If you want grand discounts on hotel bookings, you should consider visiting this hotel booking platform. From affordable to lavish, every type of hotel is made available. One can search hotels by name, location, city, star ratings, and more on Yatra. 
Make My Trip

Make My Trip is a one-stop solution for all your traveling needs. It books everything like flights, hotels, trains, buses, and more. The Hotel booking section, similar to any popular platform, looks good. The best thing about the site is its top-quality customer service. Its main search panel asks if you have to travel for work or leisure, searching the best hotels accordingly. 
The above ten websites are prominent hubs to hunt for hotels. You can compare their deals, amenities, seasonal variations in prices, and cancellation policies. They have always been at the forefront of making your stay comfortable, which is a bang for your bucks. Your accommodations are as worthwhile as the point of interest. So, book a hotel on any of the above sites while keeping your anxieties at bay.
Comments