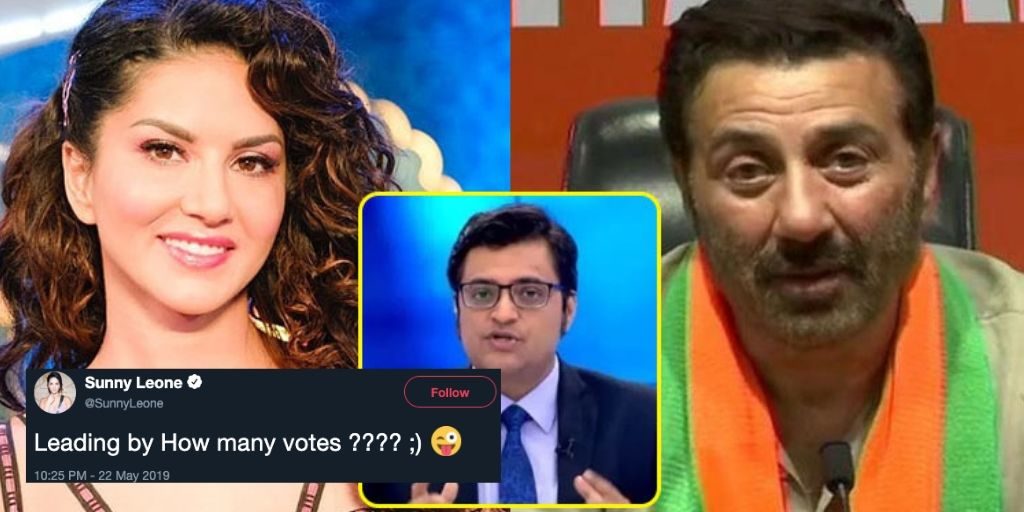 Current Election 2019 Results trends have put Narendra Modi led NDA into an absolute majority. News channels' excited anchors are competing with each other to break the news of which candidate is leading from where.
Amid the excitement, Arnab Goswami of Republic news channel slipped his tongue pronounced Sunny Leone instead of Sunny Deol. He sentence sounded like this: "Sunny Leone…Sunny Deol..Deol..". The incident happened when he quickly and very loudly tried to announce the lead of Sunny Deol from Gurdaspur Lok Sabha constituency of Punjab.
The blooper was less than a second short but Twitter was quick enough to catch the silly mistake. Here are some of the tweets which will crack you up instantly.
#1Even Sunny Leone Couldn't Stop Herself From Trolling Arnab Goswami
Leading by How many votes ???? 😉 😜

— Sunny Leone (@SunnyLeone) May 23, 2019
#2 Here is the video in which Mr. Goswami changed the name and gender of Sunny Deol
Arnab expressing his excitement for
"sunny leone", the BJP candidate from Gurdaspur. pic.twitter.com/bpPrluBjmS

— Jignesh (@jigneshinfo) May 23, 2019
#3
Heeehaaaahaaa… It's Sunny Leone's day. Crosspoint of politics and porn. #SunnyLeone #SunnyDeol pic.twitter.com/27DfI3QbB9

— Sanu George (@SanuGeorgeTV) May 23, 2019
#4
Arnab said Sunny Leone instead of Sunny Deol. He has already started wanking off. #23rdMay #ElectionResults2019 #Electionresult2019 #Elections2019

— Namit Jain (@mbacarpenter) May 23, 2019
Arnab should calm down a bit. Elections are over now.
Comments