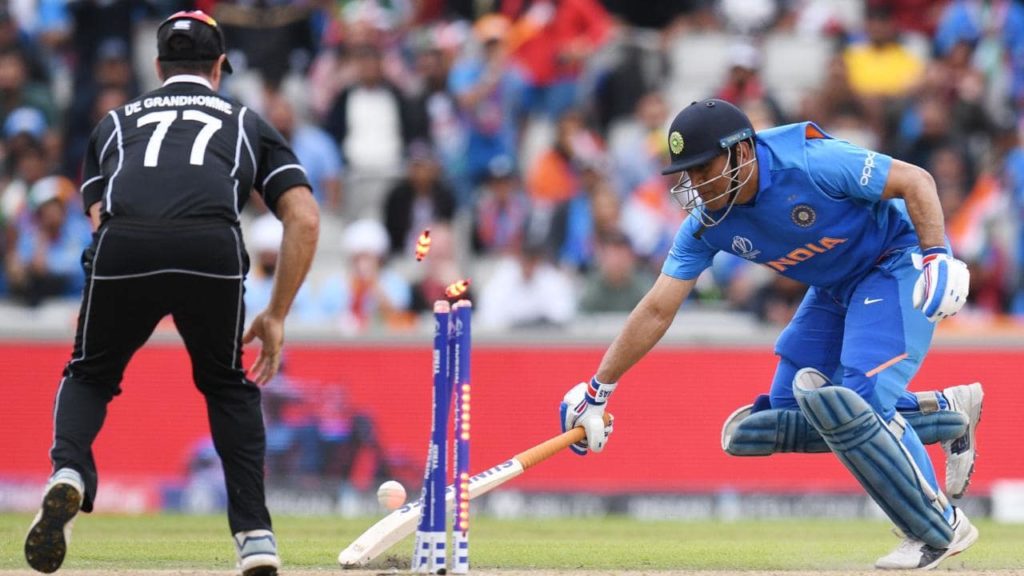 MS Dhoni's runout in the second last over of the semifinal against New Zealand ended India's World Cup 2019 campaign. India failed to chase the target of 240-runs as its top order collapsed completely. It was Dhoni and Ravindra Jadeja's over 100 runs partnership which kept the hopes alive for India. But soon after the dismissal of Jadeja in the 47th over, MS Dhoni also got run out in the 48th over by Martin Guptill.
While Indian fans are heartbroken, a massive controversy has emerged on social media due to a viral video. In the viral video, a graphic appears which clearly states that 6 players were outside the circle during the third powerplay of the match. As per the rules, not more than 5 players can stay out of the circle during the powerplay. If this fact is true then the ball on which Dhoni attempted a double should have been a no-ball.
Had it been a no-ball, the story could have been different. He could have taken a single and allowed Bhuvneshwar Kumar to strike on the free hit. Or maybe, he would have taken the double successfully.
"Dhoni might have not taken the second run if it was no ball. If indeed umpires made an error then it would have been a no ball & the next ball, Dhoni would have got a free hit. Instead, he had to run hard for two and got run out."
Am I the only one to see this???
Just before MSD got Run-out, six fielders were outside the circle
Don't know whether it is umpiring fault or GPS error
BTW, it was still a runout…#Dhoni #DhoniAtCWC19 #INDvNZ #CWC19 @msdhoni @imVkohli @ICC @BCCI @htTweets @Dhoni7_fc pic.twitter.com/75ToHp0UXZ

— WAni BaSit (@imphoenixbmw) July 10, 2019
What A great Umpiring Skills….The Ball Msd became runout should be given as NoBall…& Dhoni should have played and India have Won….What A Great WC?What a great exhibition of Umpiring skills???? pic.twitter.com/1Xthq2Qyjv

— L@cchi (@LacchiOrange) July 10, 2019
If this video is genuine and the facts are right then this could be the biggest umpiring blunder in the history of world cricket.
Comments