It is not enough to be Harmanpreet Kaur in India, you better be Harbhajan Singh
Indian cricket has reached a historic pedestal. The women's cricket team is just one step away from becoming the world champions. The women who were not lucky enough to even get a television broadcast back in 2005 when they entered the World Cup finals are at a much better place this time. The World Cup 2017 final between India and England will be the most watched cricket match in the history of women's history. The girls will sweat it out at the historic Lords stadium. The journey till the finals for the Indian women has not been easy. They have displayed exemplary grit, determination and courage to prove themselves amongst the best in world cricket. There have been stars galore in this amazing journey, but one name that left the nation spellbound is Harmanpreet Kaur. The sardarni from Punjab smashed an awe-inspiring  171 not out in the semi-final match against Australia.
Harmanpreet Kaur hails from Monga, Punjab. With her fearless knock in a match that mattered, she was instrumental in giving women sports the much needed attention. Comparisons were drawn between Virender Sehwag and Kaur, and the most notable sportsperson and other public figures could not stop gushing about the real-life Wonder Woman.
Incredible batting by @ImHarmanpreet! Come on India- Let's go out and win the second half of the game as well. #AUSvIND #WWC17 #WomenInBlue

— Sachin Tendulkar (@sachin_rt) July 20, 2017
An Innings of a lifetime , Harmanpreet Kaur . What wonderful clean hitting. More than 60% of India's runs.
Fan ! Over to the Bowlers now. pic.twitter.com/xZlIB2SW4x

— Virender Sehwag (@virendersehwag) July 20, 2017
Wow @Imharmanpreet Go India win this one!!

— Shah Rukh Khan (@iamsrk) July 20, 2017
Proud of Punjab's daughter @ImHarmanpreet Kaur for steering India into the Women's Cricket World Cup final with a superb performance!

— Capt.Amarinder Singh (@capt_amarinder) July 21, 2017
https://twitter.com/vijayshekhar/status/888428241706287107
The greatest innings in ODI history?

Watch @ImHarmanpreet light up #WWC17 with a sensational 171* off just 115 balls pic.twitter.com/KNO3KQFecW

— ICC (@ICC) July 22, 2017
The power-filled play has resulted into a flurry of rewards and recognition for the Indian Women's cricket team. The Board of Control for Cricket in India (BCCI) has announced a cash price of Rs. 50 lakh for Mithali Raj and her compatriots. The woman who has been making waves with her power-hitting display was once running pillar to post in search of a job. In 2010-11, it had been two years since she started playing for the national cricket team. She approached Punjab Police with a job application.
You will be saddened to know Punjab Police's response at that time. They rejected her application for the post of inspector. She was told that she is no Harbhajan Singh that she should get the post of Deputy Superintendent of Police (DSP). Post this embarrassment, a member of the Supreme Court appointed Committee of Administrators advoacted her cause to Rajya Sabha member Sachin Tendulkar who wrote a recommendation letter for her. On the basis of his recommendation, she managed a job in Western Railways.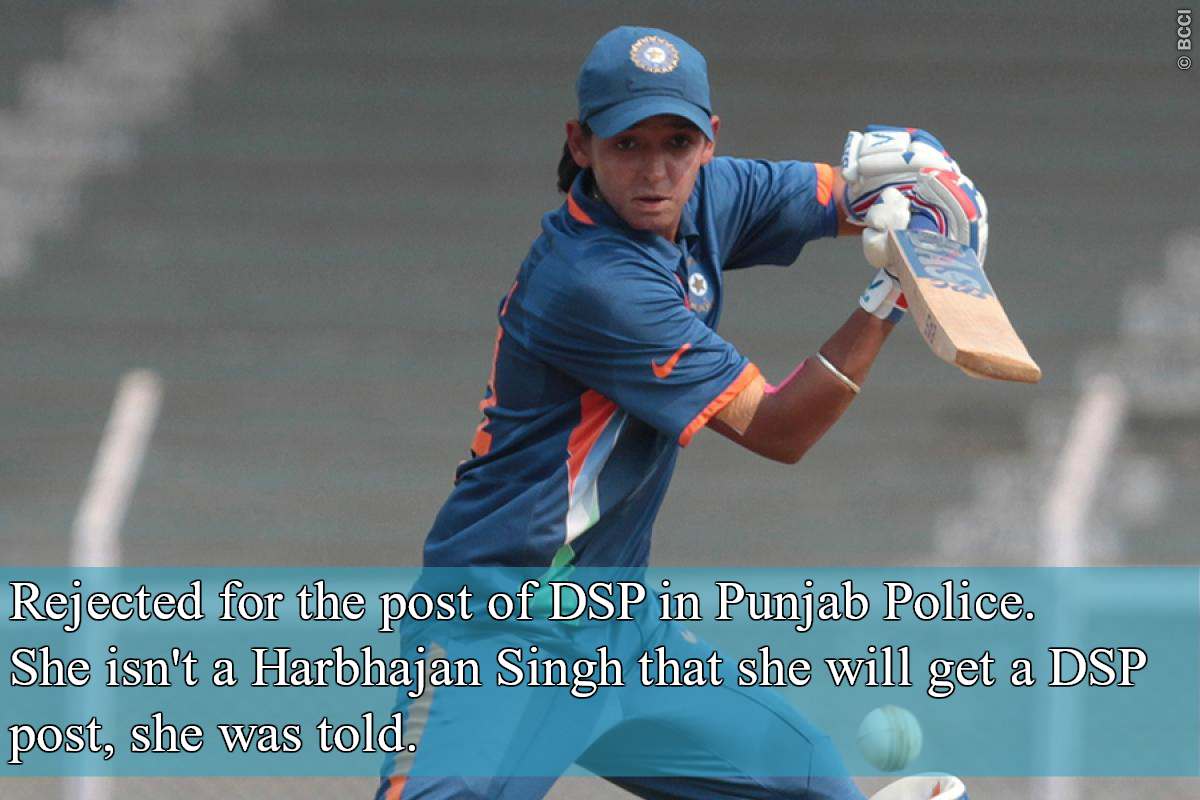 We really hope that she continues her brilliant streak in the today's match as well, makes us proud and show a middle finger to the apathetic bureaucratic machinery. There are no dearth of such stories – Stories of a callous, an uninterested attitude towards sports in our country. Such stories range from indifference to blatant disrespect. Until and unless the government, the bureaucracy respects sportsperson, the young kids playing in their backyard will not be encouraged to transform their passion for sports into a source of living. India will stay desperate for a couple of medals in international sporting events and sports will not be taken seriously.
This story is also a manifestation of a patriarchal society which honors its male cricketers more than their female counterparts. The dual disadvantage of being a sportsperson, and a woman came in the way of Harmanpreet when she wanted a job to sustain herself. It is high time this cricket crazy nation starts showering some of its craziness which borders on to religiosity on its women sports persons as well.
Comments