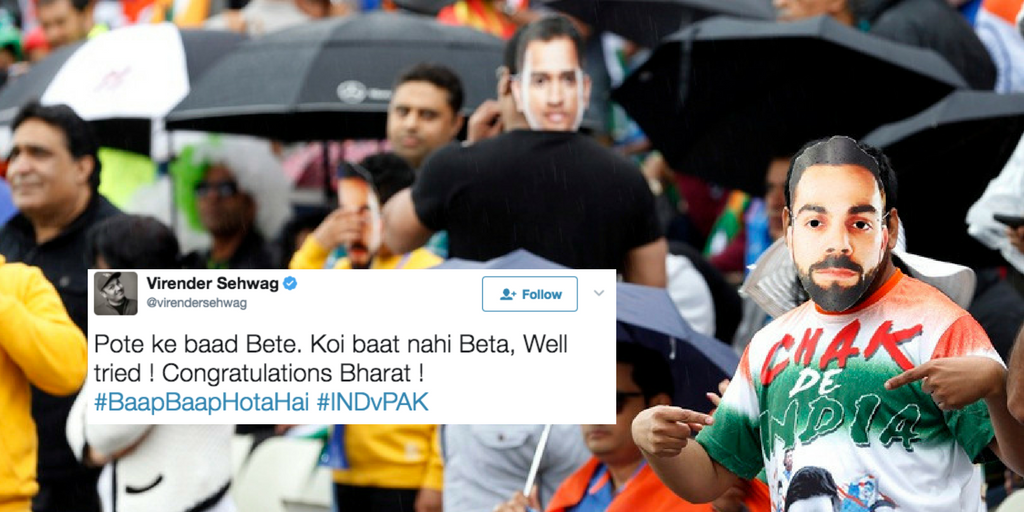 India's win by 124 runs over against Pakistan has set the Twitter on fire. Twitterati is head over heels and has left no chance to troll Pakistan with its humor and wit. And the job is led by none other than Virender Sehwag, who is known to never mince his words when it comes it expressing himself.
Thanks to Sehwag, #BaapBaapHotaHai is trending nationally on Twitter.
Pote ke baad Bete. Koi baat nahi Beta, Well tried ! Congratulations Bharat !#BaapBaapHotaHai #INDvPAK

— Virender Sehwag (@virendersehwag) June 4, 2017
When Sourav Ganguly challenged Sehwag for a 100m sprint.
https://twitter.com/prashantkt89/status/871430339704508416
And his parody account.
Dear Pakistanis, if you want to compete, spend more time in cricket camps and less time in terrorist camps.#INDvPAK #PakvInd#indiavspak

— Virender Sahwag (@virendersahwag) June 4, 2017
Rest of the Twitter wasn't behind in trolling Pakistan. Here are some of the best tweets.
1) When Hardik Pandya smashed 3 consecutive Sixes.
#pakistan walo tood do TV apna ajj fir se.. Ajj naya wala TV todna #BaapBaapHotaHai #IndvPak #ChampionsTrophy2017 #CT17 @virendersehwag pic.twitter.com/97pMivOcv5

— Satender Singh (@CaptainSatender) June 4, 2017
2) This epic joke which never gets old.
https://twitter.com/ShabanRayeen/status/871431387336908802
https://twitter.com/S_Nanda_/status/871431114564358144
https://twitter.com/piggeelani/status/871429631911514112
3) Communication skills of Pakistan Cricket Team.
Only improvement I have seen in Pakistan team is their Captain English. #INDvPAK #CT17 #BaapBaapHotaHai

— Ricky™  (@ricks074u) June 4, 2017
4) Mauka..Mauka.
https://twitter.com/I_YogiVerma/status/871430581086691328
5) This picture has instantly become the 'nuclear bomb' of troll army.
https://twitter.com/moyaagarwal/status/871430361846304769
6) When Rohit Sharma and Shikhar Dhawan held the fort.
#INDvPAK
Meanwhile in Pakistan –
Boss, this is getting tough. Pepsi kohlo.
Can't sir.
Why?
We can't get the openers out.

— Ramesh Srivats (@rameshsrivats) June 4, 2017
Kohli waiting in the dressing room for his chance to hit these Pakistani bowlers. #INDvPAK pic.twitter.com/APwy6FQl1y

— The-Lying-Lama (@KyaUkhaadLega) June 4, 2017
7) When the match was stopped due to rains.
#INDvPAK we need more priyanka chopras pic.twitter.com/Fa4LcK5C6B

— ilyas (@IlyasAssibutt04) June 4, 2017
Mr. Duckworth and Lewis coming to the stadium.#INDvPAK pic.twitter.com/uta8cxzzpR

— PhD in Bakchodi (@Atheist_Krishna) June 4, 2017
Comments