This sketch by a 10 year old led to the conviction of her rapist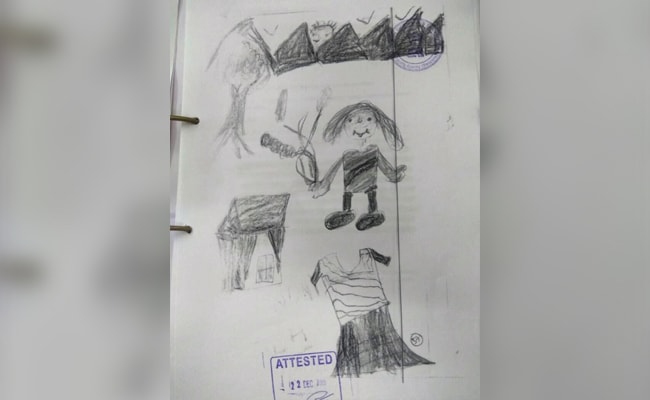 Indian judiciary is pockmarked by a number of landmark judgments that have belied all assumptions and preconceived notions about the way things work in the judicature. One such instance has come on to the fore recently wherein a judge has convicted a man of rape, relying on a sketch by the 10-year old victim. The 45 year old man is the girl's uncle and claims that the girl has been tutored to accuse him of sexual assault. The judge, Vinod Yadav, however had to look at the sketch just once to deliver his judgment.
The 10 year old was given crayons and paper to keep herself busy during the trial. The sketch shows an abandoned house drawn with gloomy colors. Adjacent to the house is a girl with balloons intertwined with some threads. Her dress is lying aside. Additional sessions judge Vinod Yadav said that the sketch depicted a lasting impression of a sexual assault and sentenced the man to five years in prison. The judge ruled by virtue of the girl's sketch that she is competent enough to testify as a witness.
The girl was abused way back in 2014 when she moved to Delhi from Kolkata after her mother died and her father, a drug addict abandoned her. She moved in to live with her aunt and uncle. This is when her ordeal started. She tried confiding in her aunt but she acted deaf to her pleas for rescue. Consequently, the girl slipped out of the house and took a bus where a conductor spotted her crying. The kind conductor tried to talk to her but she didn't utter a word. He then handed her over to the police, from where a non governmental organization, Haq Foundation, took over. Counsellors from the NGO tried talking to the little girl.
At first, the girl was too meek to speak up about the harassment but slowly she opened up to the counselors. During the course of the trial, she was given paper and colors to help her get over her trauma. One of her drawings helped the judge to pronounce a positive verdict. It is to be seen whether more judges leverage such innovative methods to reach at verdicts.
Comments