These 5 Easy Egg Recipes Will Never Let You Stay Hungry
Eggs are one of the best sources of high quality protein one could have. It holds the complete nutritional package along with vitamin D, B6, B12, and minerals like zinc, iron, and copper.
You can conveniently cook some mouth watering preparations in a very less time.
Egg Salad
An easy and healthy breakfast for people who always have very busy morning.
Boil 2 eggs . While egg is boiling chop cabbage. Add some lemon juice and mix it well.

Add grated carrot, reddish, green chilli in a bowl along with cabbage. Toss well.
3.When eggs are done, remove the shells and cube them in your desired size but don't chop them. Put the pieces into the same bowl.
Now sprinkle pepper powder, salt, chaat masala. Mix them slowly.

Decorate it with chopped coriander leaves in a bowl and serve.  
Oats Egg Omelette
This oats omelette is very similar to egg omelette. What we all needed is good amount of chopped vegetable, egg white and oats.
Ingredients
2 Eggs

1\4th cup oats flour                  

3 to 4 tbsp vegan milk

Salt as needed

Turmeric a pinch                               

Any spice powder

1/4th tbsp pepper powder

Oil

2 tbsp onion

2 tbsp grated carrot

2 tbsp capsicum

2 tbsp deseeded

2 green chilli chopped

Coriander leaves                
Method
Put oats flour in a bowl and add salt turmeric, pepper powder, spice powder that you have. Add 3 tbsp vegan milk.

Break 2 eggs to the bowl.

Blend them the ingredients until the mixture gets lighter. The mixture must be in pouring consistency. If you feel it is still tight add some more tbsp of milk.

Pour 2 tbsp oil in a pan and heat up. Set the flame to medium. When the pan is hot enough pour the mixture.

Mix all the veggies and layer them. Gently press the veggies with spatula.

When both the side is cooked well, serve it with green chutney.
Egg in a Hole
2 Eggs

4 sliced bread

Butter as needed

Mixed veggies

(

capsicum, brocali, cauliflower, carrot, beans

)

Herbs or seasoning as desired

Salt as per need

Pepper powder

Olive oil to toss veggies           
Method
Mix all the chopped vegetables salt, pepper, rosemary and olive oil very well.  

Remove the brown part of 2 bread slices. With the cutter cut the center portion of the bread.

Line a baking tray. Place the bread slice into it and spread vegetables around it.

Break the eggs and pour it in the center of the slices. Sparkle salt, pepper powder over the egg.

Bake for 10 to 12 minutes at 200 degree celsius in a preheated oven. Bring the tray out when the yolk is just set as overheating makes it hard.

Egg in a hole is ready to eat.
Bread Omelette Sandwich
Bread omelette sandwich can be made with several variations and is a famous Indian street food.
Ingredients
2slices of brown bread

1 large egg or 2 small egg

2 tbsp oil

salt as per needed
5.1/4 tbsp turmeric
pepper powder

1/14 chaat masala

2 to 3 chopped onion, capsicum, 1 green chill and chopped coriander leaves        
Method
Break the eggs into a bowl and beat it until frothy.

Add chopped onion, capsicum, chili, coriander leaves, salt, turmeric. Mix it well.

Add oil in a pan and heat it
4.Pour the mixture into the pan and allow to cook until it's base become firm.
Place the bread slice on the tawa and place the omelette with cheese.

place another slice and toast until the cheese melts.

serve the bread omelette sandwich hot with ketchup or chutney.
Egg Bhurji
Very easy and tempting recipe which can be made in no time. You can have egg bhurji either with parath, toast or in anyway you like.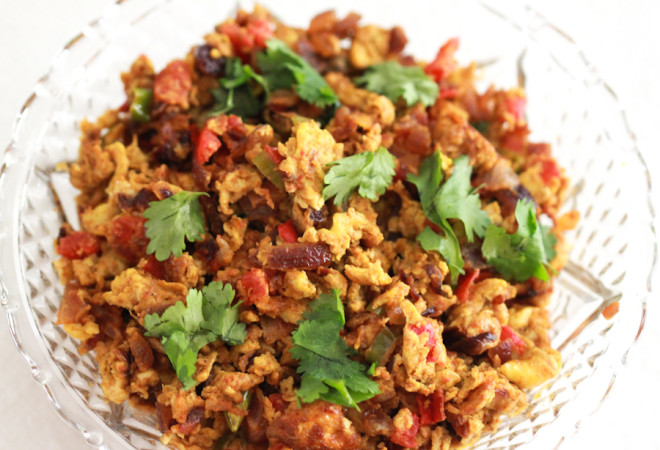 Ingredients
2 to 3 boiled eggs

1 chopped onion

2 tbsp chopped capsicum

salt as needed

4 tbsp oil

pepper powder

spices

1 chopped chilli and coriander leaves, ginger

1 tbsp turmeric powder    
Method
Heat the oil in pan on a medium flame.

Add chopped onion and capsicum. When onion turns in pink color add turmeric, chili, ginger into it mix well.

Add boiled eggs and and crush them to turn it into very small pieces.

Add salt, pepper, and spices and cook it for 3 to 4 mins.

serve it with paratha or toast.
You would never go hungry with these recipes.
Comments