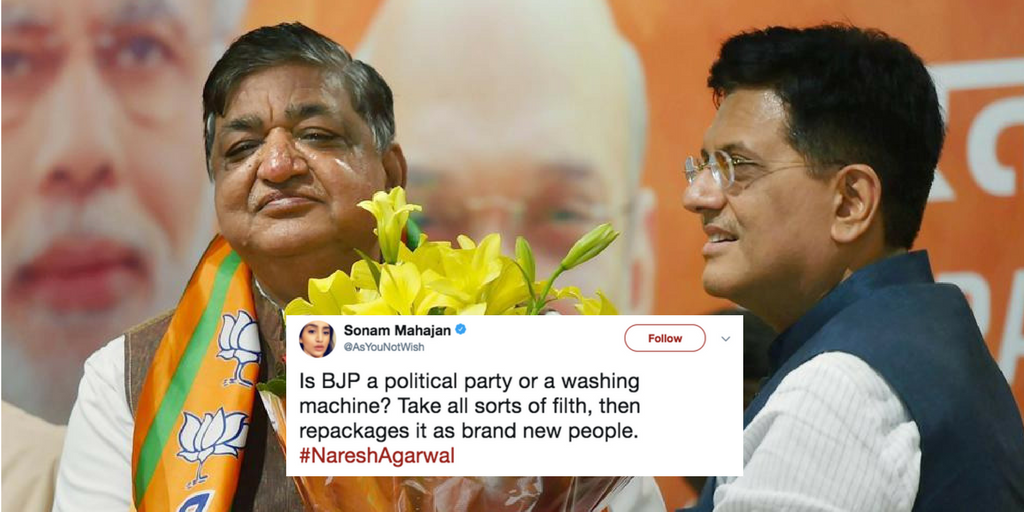 A close aide of ex-Uttar Pradesh CM Akhilesh Yadav joined BJP today in the presence of Railway Minister Piyush Goyal. After accepting the membership of BJP Naresh Agarwal expressed his disappointment for being neglected by Samajwadi Party for nomination to Rajya Sabha.
Shockingly he made a very disgraceful and misogynistic comment against the veteran actress and Rajya Sabha MP Jaya Bachchan:
"I have been compared with those who dance and work in films,"
But BJP immediately went into damage control and disowned the comment made by Naresh Agarwal.
It is not the first time that Naresh Agarwal has landed into soup by making such remarks.
#1 Insulted Hindu gods by comparing them with liquor.
#NareshAgarwal joins BJP .
😆😆😆
Will this be the slogan for BJP for 2019 ?
👇👇👇 pic.twitter.com/xASmLvISEx

— K. Chandrakumar 🤔 (@kurup62) March 12, 2018
#2 He even insulted PM Narendra Modi
Cant believe Naresh Agarwal who spoke such rubbish of PM @narendramodi joined BJP.Unbelievable 🤨#NareshAgarwal pic.twitter.com/QhdGffQmld

— Geetika Swami (@SwamiGeetika) March 12, 2018
Ever since his induction in the BJP, forget opposition even staunch BJP supporters are outraged over this unexpected decision. Here is how people have reacted to the induction of Amit Shah in the Bhartiya Janata Party.
#1
Bhakt Reaction after #NareshAgarwal joind BJP pic.twitter.com/9fzzYWbo7S

— Ram Jethmalani (@Ram_Jethmalani_) March 12, 2018
#2
Is BJP a political party or a washing machine? Take all sorts of filth, then repackages it as brand new people. #NareshAgarwal

— Sonam Mahajan (@AsYouNotWish) March 12, 2018
#3
Dumbfounded and amused in equal measure by the outrage over #NareshAgarwal joining the BJP. You mean to say there aren't any folks same as or worse than him in the BJP already?

Are you kidding me? What do you take the BJP as – the Smithsonian?

— Anand Ranganathan (@ARanganathan72) March 12, 2018
#4
BJP fans welcoming #NareshAgarwal to the party…. pic.twitter.com/r595o2Kcjj

— The-Lying-Lama (@KyaUkhaadLega) March 12, 2018
#5
The last time someone called a female actor 'nachne wali' was the Shahi Imam of Jama Masjid for @AzmiShabana on my show We The People. I removed him from the show. #NareshAgarwal needs a boot from the BJP. That would be fitting.

— barkha dutt (@BDUTT) March 12, 2018
#6
Q: Sir how many f*cks do you give to your supporters and their ideology ? #NareshAgarwal pic.twitter.com/vIojjWM9DJ

— The-Lying-Lama (@KyaUkhaadLega) March 12, 2018
#7
#NareshAgarwal joining @BJP4India n them accepting him is a travesty of every modicum of ethics in politics n a complete death of ideology . After abusing Hindu gods as alcohol brands, calling Jadhav as terrorist & names to indian army etc inducting him is an utter shame!

— Vikram Sampath (@vikramsampath) March 12, 2018
#8
Narendra Modi in his victory speech after NE Polls on March 3rd had said BJP should be careful that while ensuring Congress Mukt Bharat, "Congress Culture" doesn't creep into the party. With induction of people like #NareshAgarwal it runs the risk of going several notches lower.

— GhoseSpot (@SandipGhose) March 12, 2018
#9
Naresh Agarwal :
1) Compared Hindu Gods to Alcohol.
2) Questioned the calibre of Indian Army.
3) Called Kulbhushan Jadhav a Terrorist.
4) Casteist comment against PM Modi.
Still #NareshAgarwal accepted by "Party with a Difference" BJP. After joining BJP, he would be pure. Jai ho.

— Anshul Saxena (@AskAnshul) March 12, 2018
#10
Misogynist #NareshAgarwal should be thrown away from Indian Politics.
People like him doesn't deserve to be with us.

— Where is Justice? (@Rightwing_Blunt) March 12, 2018
Comments