Indians are going crazy over JCB memes. Check out the best of this totally weird trend
JCB ki khudaai is all over the internet!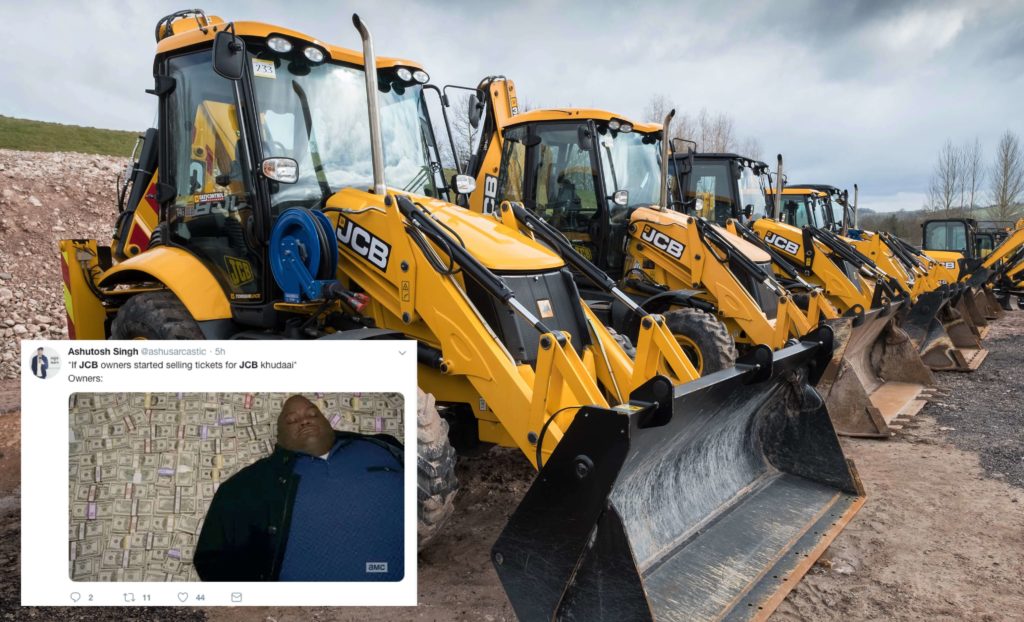 If you are even a bit of a social media geek, you might have noticed that the Indian brethren is sort of going crazy over JCB memes. It's JCB ki khudaai all over the net, and honestly, there is no corrigible reason behind this development.
When you were offline for more than 18 hours and now all you can see on social media is "JCB ki Khudai" pic.twitter.com/jPllXmqxCc

— Nishant Saurabh (@dpressed_memer) May 27, 2019
People are bemoaning over missing the "JCB ki khudaai" as if it's the biggest, most important event they could stand witness to
When JCB ki khudai is happening in your area but you have to go office pic.twitter.com/MDt0hUnRgp

— Bollywood Memers (@BollywoodMemers) May 27, 2019
Even compatibility is being weighed on your potential significant other's likeness for JCB memes
"Starbucks or CCD?"

She: JCB ki khudai

Me: pic.twitter.com/34QVK4lRDD

— Bollywood Memers (@BollywoodMemers) May 27, 2019
JCB drivers are the newest heroes. The Kings.
1) JCB driver arrives
2) Public reaction pic.twitter.com/vyrbrP2I7E

— Bollywood Memers (@BollywoodMemers) May 27, 2019
The excitement when a JCB khudaai is about to start, is totally palpable across one and all
When its JCB ki khudai in ur area and driver is about to start#JCB pic.twitter.com/xG3JkR1Swn

— D A N I S H A N S A R I (@Asshiqqqqq) May 27, 2019
It's literally going out of hands
That moment When JCB driver says aaj night shift mai bhi khudai chalegi#JCB pic.twitter.com/qmvwonZfMW

— D A N I S H A N S A R I (@Asshiqqqqq) May 27, 2019
_"Me & my Friend when JCB ki Khudai is over💔_" pic.twitter.com/xAZVWvfJ67

— ||~Sarcasm Centre~||🍁 (@lism_lo) May 27, 2019
Social media right now#JCB #jcbkikhudayi pic.twitter.com/N9X35vvvN6

— Mansi ❤️ (@Mansiyadav_) May 27, 2019
Not just Twitter, even YouTube is totally smitten by the JCB fever
Reason behind India's Unemployment pic.twitter.com/U64VmJ0amD

— Shivam Arora Gakhar (@ShivCasm) May 27, 2019
Seriously, why is everyone drooling over JCB? Is it because, whenever a JCB digs in a nearby area, it becomes like the ultimate community event? There are people gathered to witness this majestic mean machine going on with its routine as if it's the next best thing after getting a chance to visit Disneyland.
Growing up, we have all been fascinated by how mammoth JCB machines are, and how they work their way through difficult terrains. The childhood fascination is perhaps morphing itself into this current obsession for JCB machines. Just to add a bit of trivia on to the current craze, JCB stands for J.C. Bamford Excavators limited and is headquartered in Rochester, United Kingdom. It came into existence in 1945 and has approximately over 11,000 employees working for it. That are big numbers, aren't they?
Comments