Donald Trump is presiding over a superpower but that is not stopping the internet from making him the butt of the most ridiculous, and yet, funny memes. The most recent invention of internet is the miniature Trump. The 70 year old, now US President, has been in news from the time he started campaigning as the Republican presidential candidate. His outrageous remarks spared no one and thereafter, started a ruthless trolling cascade. A Reddit community which is aptly named, Tiny Trumps is now taking the lead in trailblazing the trolling movement. It has been posting photoshopped images of Donald Trump , tiny in size and shrunk in stature.
The group is picking up original pictures and turning them into hilarious pieces of Tiny Trumps. Here are the best posts from the highly popular Reddit thread which has 35,000 subscribers already :
Here is Tiny Trump rolling on the floor which will make you go ROFL
2. Ivanka Trump calming a crying Trump
3. Some tie-tying lessons for the Tiny Trump from his predecessor 
4. Tiny Trump doing president stuff- addressing a big press conference 
5. Tiny Trump forays into mutual admiration with Mr. Putin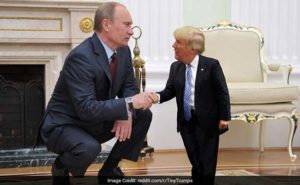 If these pictures were not enough to crack us up, a video has surfaced featuring the best moments of Tiny Trump
The video shows Trump in his miniature form signing executive orders, addressing a press conference with Canadian PM Justin Trudeau and wondering what wrong he had done to get the same size as that of his grandchildren.
A tiny disclaimer though, Size is not all that matters.
Comments