The 1990's make an unpleasant comeback in Kashmir
27 years on, the crackdown is back in Kashmir. Army, police and paramilitary forces cordoned off nearly 20 villages in Shopian district and launched a massive search operation in houses and orchards. Residents of some villages – Sugan, Heaf, Chilipora, Turka Wangam and Malnad took recourse to heavy stone-pelting against the forces. Two youngsters who sustained pellet injuries in Sugan and Turka Wangam villages are being treated in the Srinagar hospital.
The security forces faced reprisal in form of an attack on a patrol party led by 62 Rashtriya Rifles at Imamsahib. The clean-up operation was triggered by a recent video which went viral on social media showing a group of around 30 militants. Such a large scale combing operation by the military came into picture in Kashmir after 1990's – when insurgency was at peak in the troubled state. The time machine has turned back and has put the state in a depressingly retrospective position, which is evidence of how successive governments in the state failed to tame the violence flaring in the valley for so long. The search operation was not a solitary instance of an unpleasant revival of the old times. Mass-copying or cheating in examinations has also made a comeback in the state. There has been evidence of cheating at a graduate level exam held by the Jammu and Kashmir Service Selection Board (JKSSB).
So, what exactly is causing this seemingly incessant cycle of vicious violence? Warning bells has been ringing for quite a while, it seems. Newspaper reports point to an an internal survey held by the Jammu and Kashmir police in 2015, which inferred that for the first time in 10 years, local militants were more in number than the foreign terrorists. The former made up 62% of the total. Since, locals were now involved, the Kashmir challenge became even more complicated. The young, the educated, the ones whose academic record are beaming with A's and A+'s are picking up the guns. It is no longer the laptops vs. guns debate. It is no longer the poor who are being misled. The university educated are dying militants. Abdul Rashid Bhat, who succeeded the slain Hizbul commander, Burhan Wani, studied at an engineering college in Chandigarh.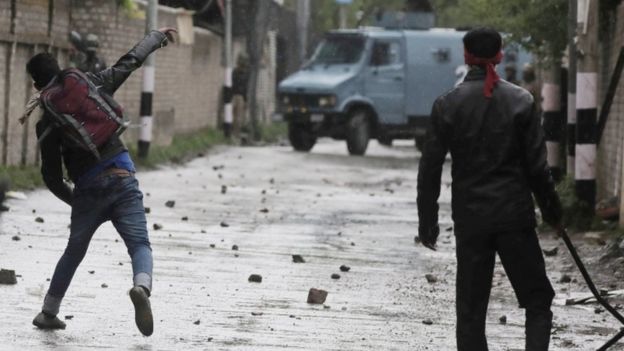 Kashmir is going back in time and all positives gathered till today are frittering away. We need urgent answers, viable solutions. Whatever the way out is, the young and the educated in Kashmir have to stop with the guns and stones.
Comments