The 10 Most Beautiful Waterfalls In India You'll Never Forget
There's nothing more enthralling than gazing at the wondrous feats mother nature manages to conjure. One such truly beautiful miracle is the occurrence of waterfalls amidst the most breathtaking views. It's like the perfect mix of adrenaline and magnificence. If having your breath taken away is an item to be checked off in your bucket list, here are the 10 most beautiful waterfalls in India that you should explore.
1. Vajrai Waterfalls, Satara, Maharashtra
The tallest waterfall in India, Vajrai Waterfalls in Satara is a sight to behold. Nestled between lush green mountains and flower valleys, this is where river Urmodi originates. If you are seeking peace and tranquility in your next outing, this place is for you. Devoid of the mainstay hustle of city life, this place is an embodiment of peaceful solitude with no unwanted hawkers, nosy cameramen or rowdy tourists to interfere with your spiritual chakra.
Source: Wikipedia
2. Jog Falls, Shimoga, Karnataka
Dubbed the "Majestic Waterfalls", Jog Falls is one of Karnataka's main tourist attractions. Also known as Gerosappa or Joga falls, this natural treasure is located at the Shimoga-Uttara Kannada border. The best time to experience Jog Falls is monsoons when the water from Sharavati River is in its utmost glory. The four cascading falls are amusingly names, Raja, Rani, Roarer, and Rocket. The mesmerizing effect of this beautiful destination is greatly amplified by dense vegetation cover, and the steep gorge which is perfect for an adventurous walk when the gates of Linganmakki dam are closed.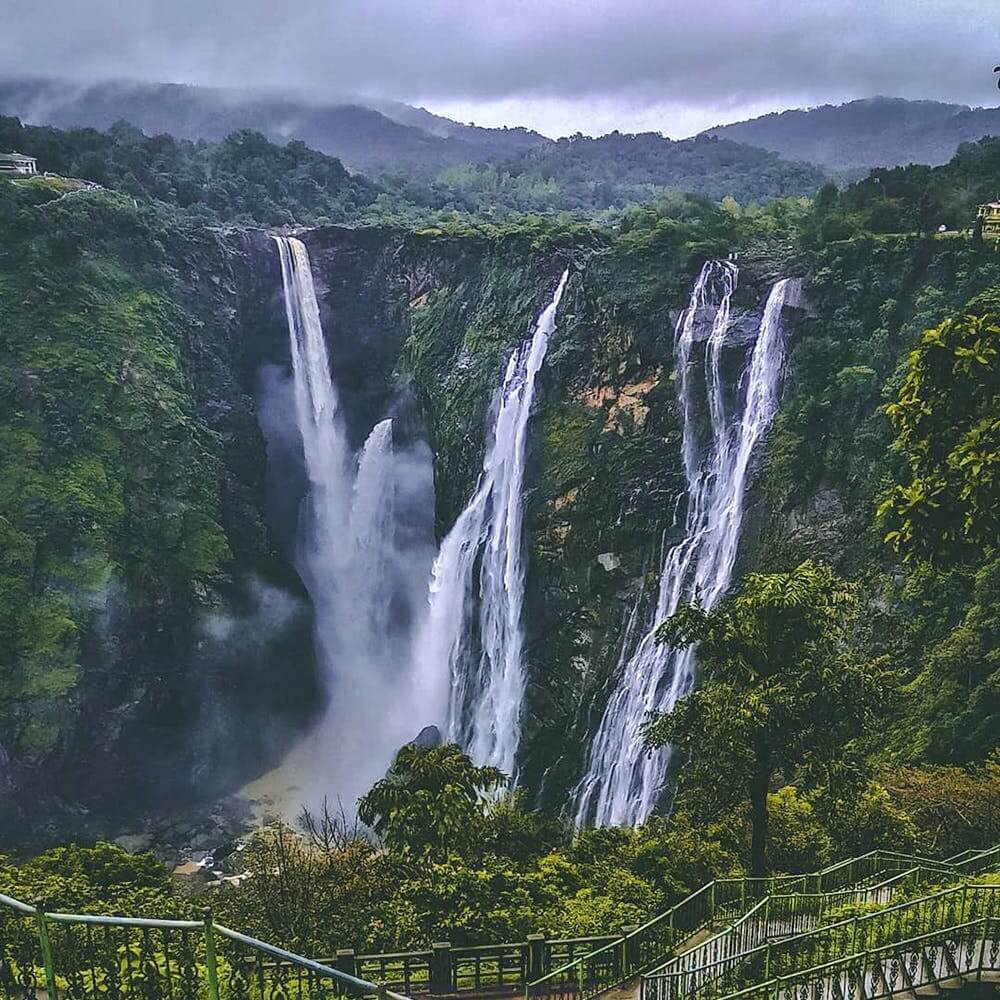 Source: LBB
3. Kunchikal Falls, Shimoga, Karnataka
Located on the Udupi-Shimoga border, the Kunchikal Falls originate from the Varahi river and is touted as one of the biggest cascading waterfalls in India. The rugged rocky terrain in the background is a truly breathtaking sight for the visitors to absorb. The best part about Kunchikal Falls is that the journey is as beautiful as the destination. The road to Kunchikal has umpteen opportunities for you to spot diverse wildlife species – Indian bullfrog, Giant Indian squirrel, and other rare reptiles, birds, and wild animals.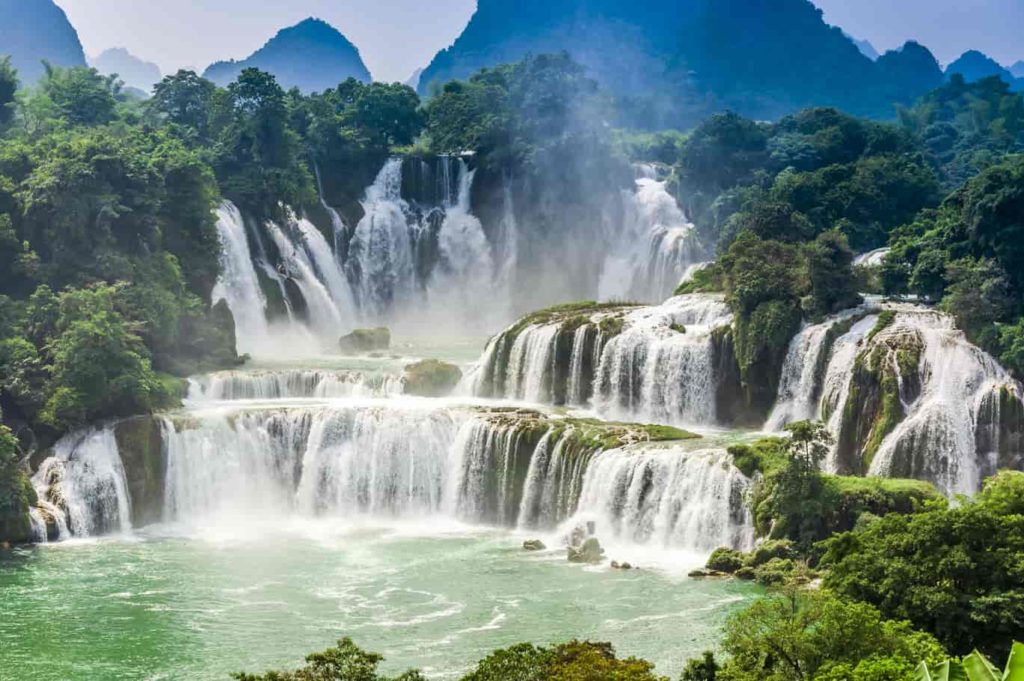 Source: Treebo
4. Barehipani Falls, Odisha
The Barehipani Falls cascade from the height of up to 399 m and shares its area with the Simlipal National Park. Situated in the Mayurbhanj district which is home to gaurs (Indian bison), wild elephants, antelopes, and Bengal tigers, Barehipani Falls gives you the best of both worlds – wildlife and nature. The Budhabalanga river flows from the magnificent Meghasani mountains to create an incredibly beautiful juxtaposition of natural beauty and mind-blowing scenic charm.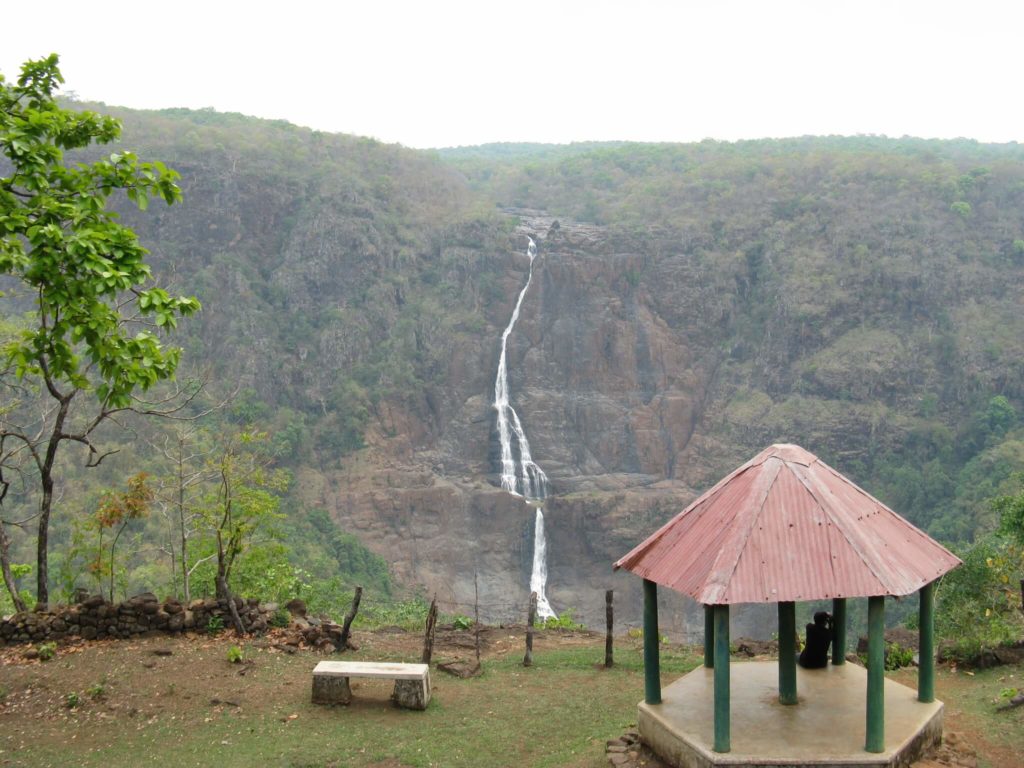 Source: Wikipedia
5. Soochipara Falls, Kerala
A three-tiered waterfall surrounded by deciduous, evergreen, and montane forests; Soochipura Falls, also known as Sentinel Rock Waterfalls, is a beautiful manifestation of nature's abound charms. Perched at a height of 200 m, it offers a cliff face as well, which is an ideal spot for rock climbing. You can stay in treetop accommodations offered by the forest department to make your visit even more adventurous. The treetops by virtue of their strategic location, offer enthralling views of the entire Western Ghat valleys, and hence, are guaranteed to leave their imprint much after your holiday is over.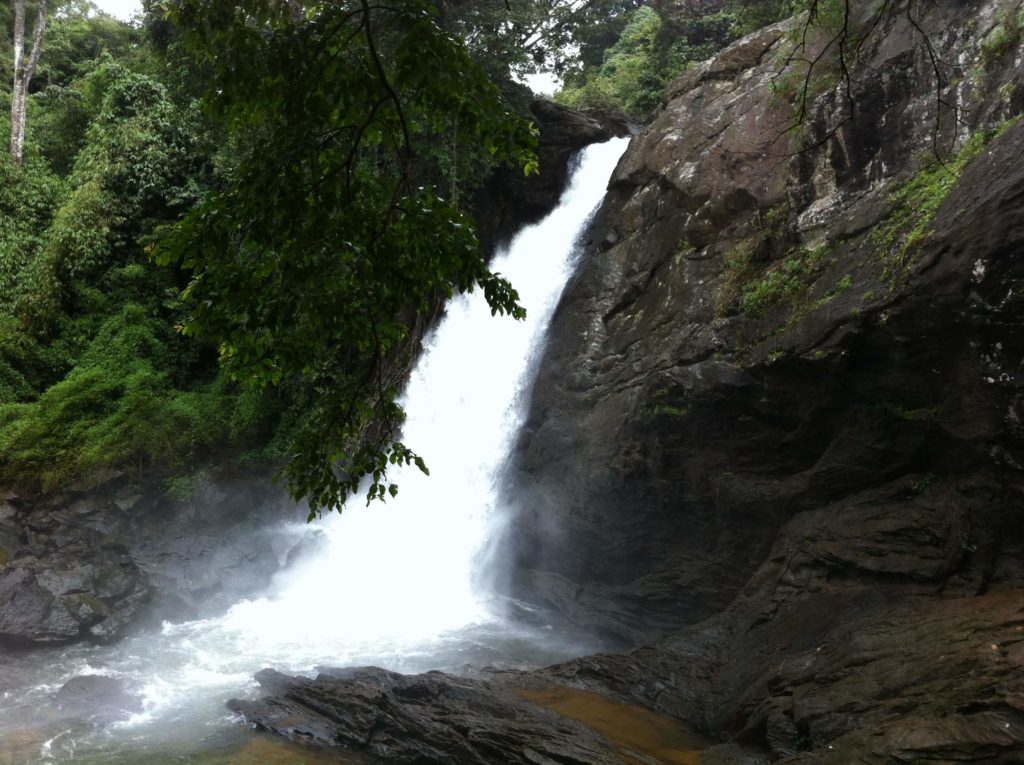 Source: Wikipedia
6. Khandadhar Waterfalls, Odisha
Forming the shape of a horse tail, Khandahar Waterfalls's beauty is truly indescribable. Formed by a year-round rivulet, Korapani Nala, this waterfall is said to be Odisha's highest waterfall. If adventure sports are your calling, you can trek or hike your way to the top of the mountain to witness this waterfall in its utmost glory. Nestled amidst deep, uncontaminated forest cover, Khandadhar Waterfalls is a must-visit tourist destination if you're a true nature aficionado.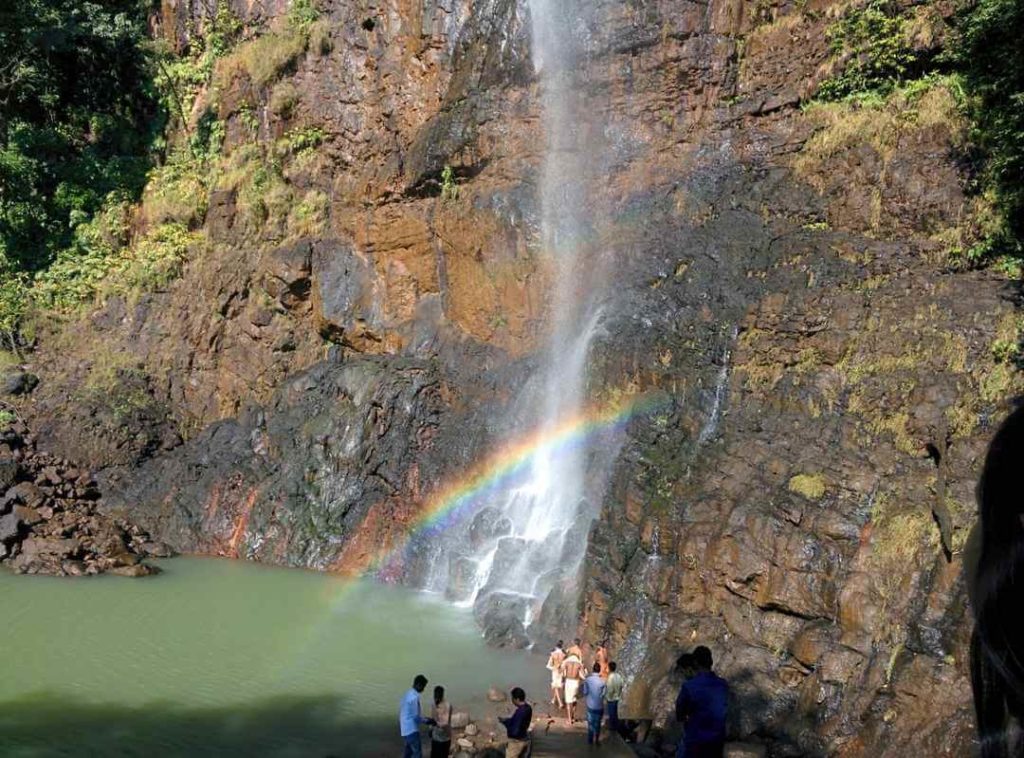 Source: Tripoto
7. Nohkalikai Falls, Meghalaya
At just 5 kms from Cherrapunjee, Nohkalikai Falls usher down from a mighty height of 1,100 ft. To reach this natural marvel, you need to hike a bit upon which, you will reach the perfect viewpoint to witness the waterfalls meeting the ultramarine pool several feet below. Monsoons are the best time to explore this instance of nature's sorcery in its utmost glory. Nohkalikai Falls derives its name from a tragic legend of a mother who plunged to her death as she was unable to fathom the death of her daughter at the hands of her husband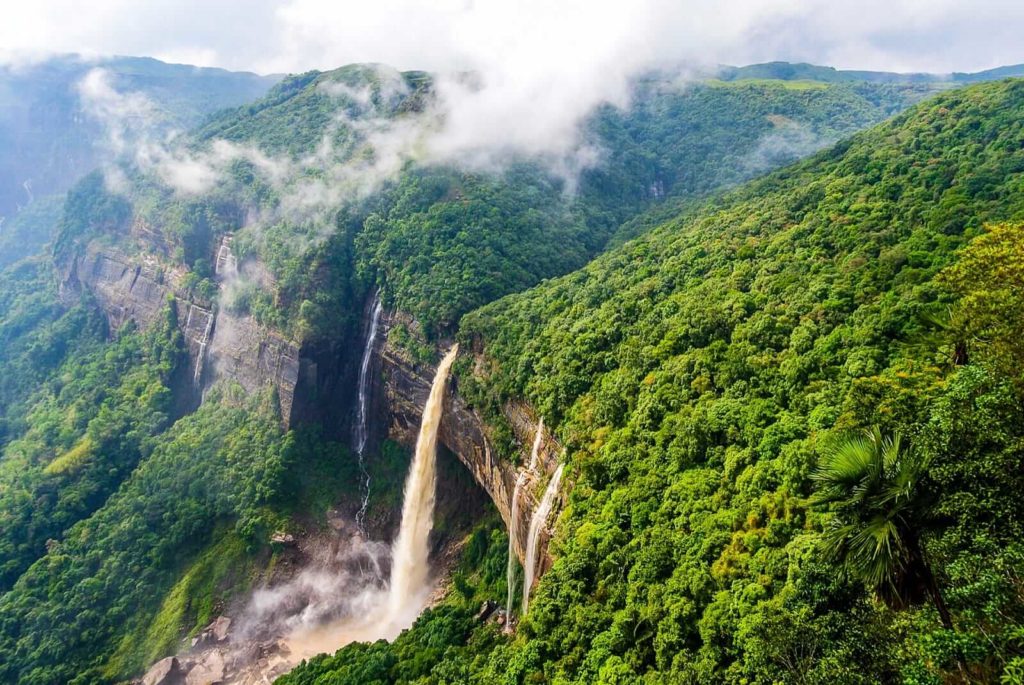 Source: GoIbibo
8. Dudhsagar Falls, Goa
This beautiful waterfall gushing from a height of 1017 feet creates a mesmerizing illusion of sea milk falling from the top, and hence, the name Dudhsagar. Located at the Goa-Karnataka border, this four-tiered waterfall originates from the Mandovi river and is a part of the Bhagwan Mahavir wildlife sanctuary. Surrounded by the Western Ghats, the Dudhsagar Falls is snugged amidst a deep cover of deciduous forests.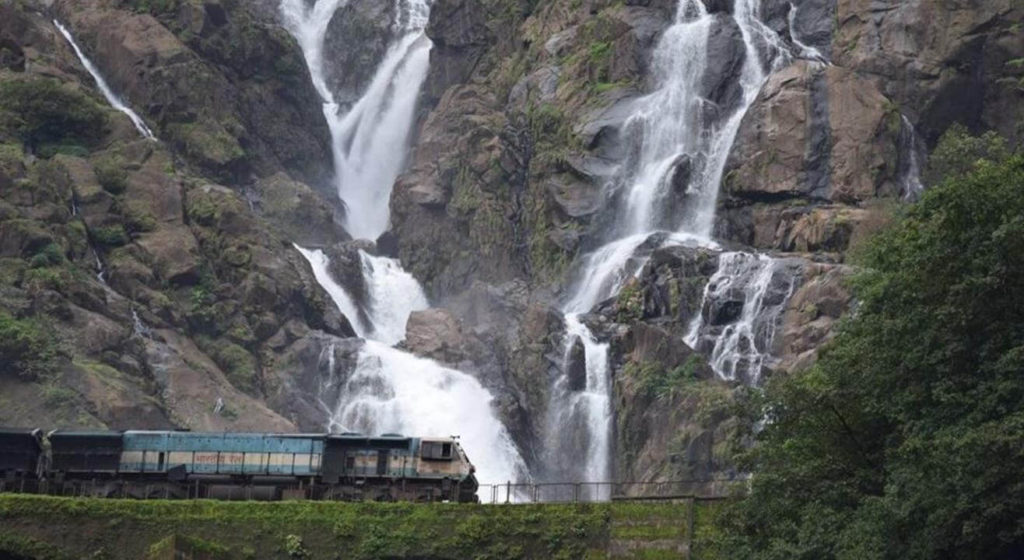 Source: Insider
9. Vantawng Falls, Mizoram
 Located at about 137 kms from the state capital, Aizawl, Vantawng Falls is a spectacular sight to behold. Nestled amidst thick bamboo forests, this hidden treasure should be on your bucket list if you're willing to explore the paths that are less trodden. A viewing post is put in place for travelers to soak in the beauty of this waterfall which sources its water from the Vanva river. When you're there, try the lip-smacking local Mizo cuisine as well, to make your trip truly remarkable.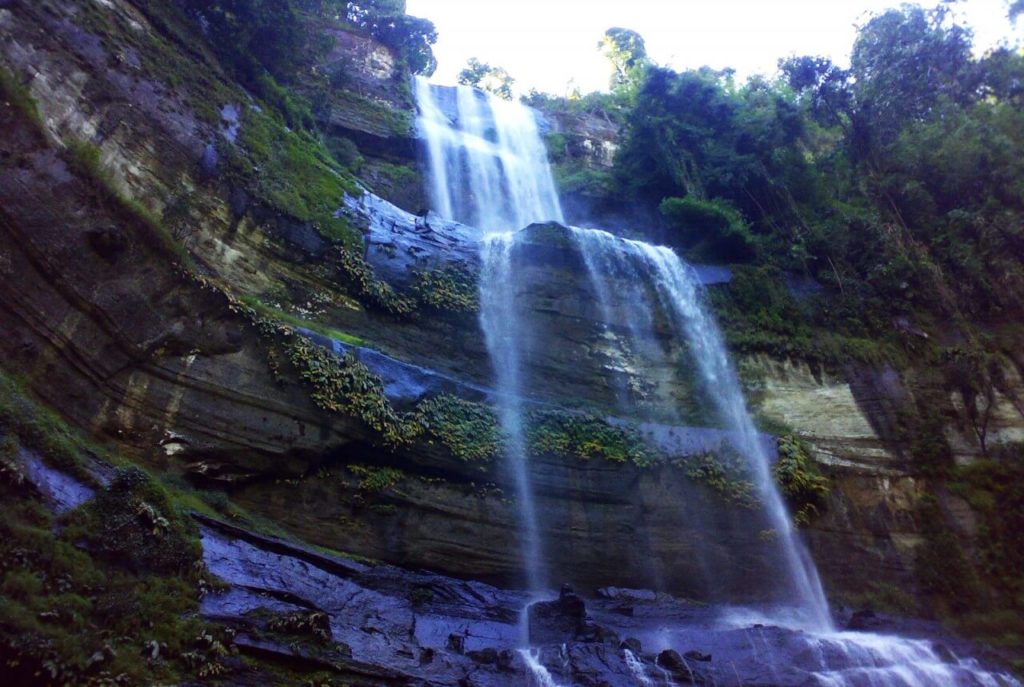 Source: mizoram.gov.in
10. Nohsngithiang Falls, Meghalaya
Also known as Seven Sisters Waterfalls or Mawsmai Falls, Nohsngithiang Falls is a seven-segmented waterfall lying at a mere distance of 1 km from Mawsmai village. Falling from the top of limestone cliffs during the rainy season, this waterfall's beauty is accentuated manifold by the vibrant hues of the setting sun. If you're lucky enough to sight a rainbow above the glinting water, you can consider your trip here, worth all your bucks.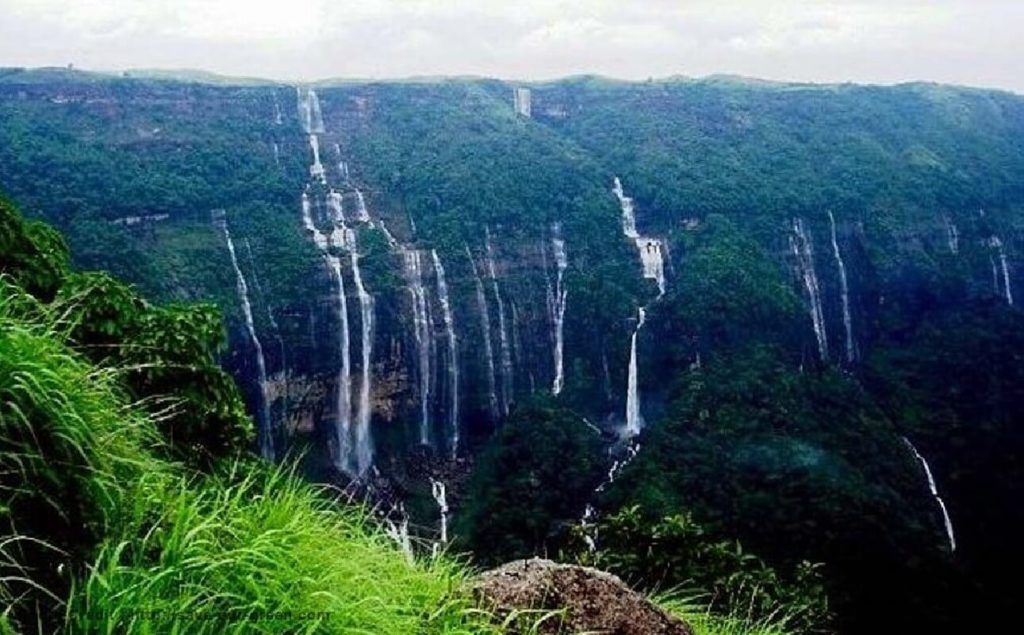 Source: cityvillagenews.com
Comments