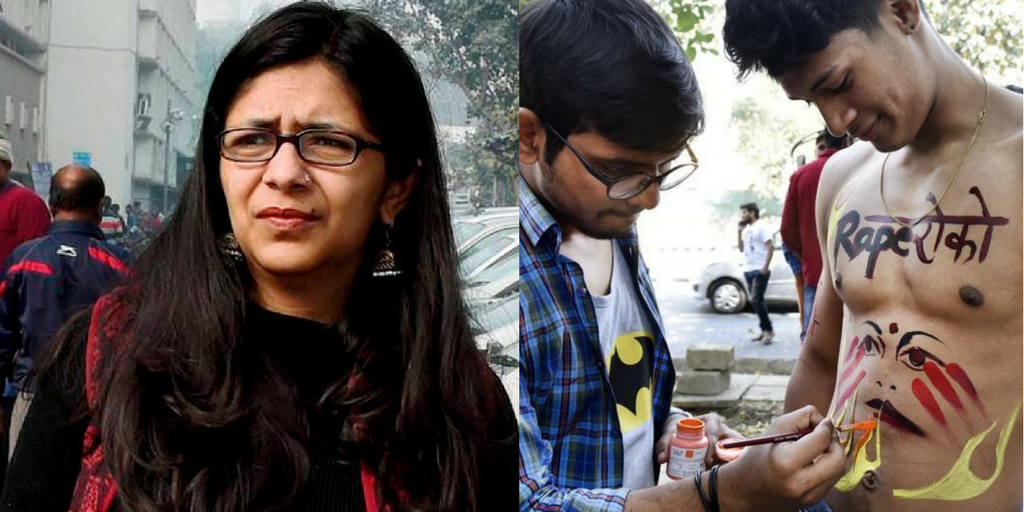 Shell-shocked DCW chief Swati Maliwal started #RapeRoko movement in January 2018 after an alleged case of rape of an eight months old child in a bid to demand speedier justice for the victims of this heinous crime. Ever since the start of the movement, she has visited police stations, railway stations, streets and other public places to investigate security arrangements made to clamp down the cases of rape in the national capital. She even didn't go home for a month.
Now, with her claim of the collection of lakhs of letters demanding strong punishment against rape and her campaign gaining the traction on social media; people from different quarters are showing support for women safety in Delhi.
Some DCW male volunteers have also marched naked on Delhi streets slogans like 'clothes do not cause rape, sick mentality does' and 'Her clothes are not short, your mentality is' to register their protest against rising crime against women and children.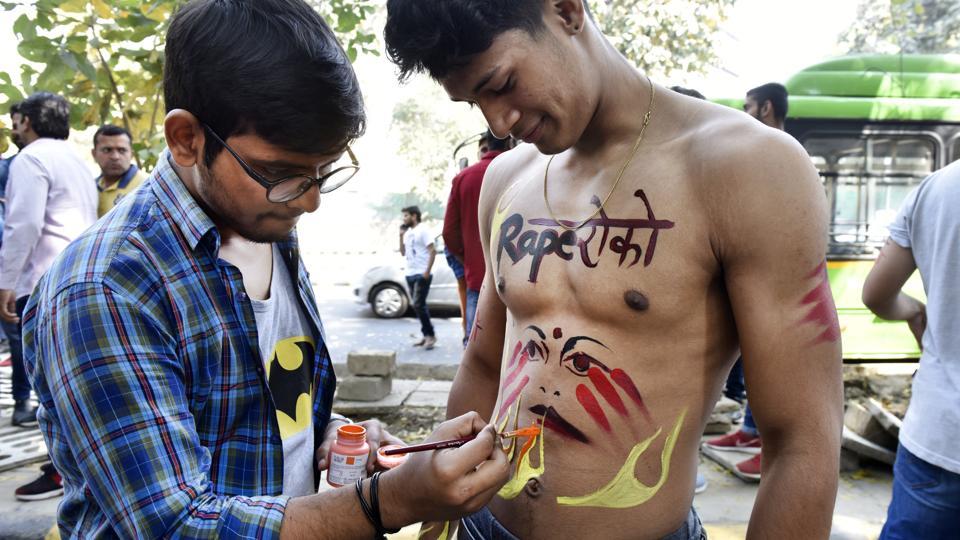 #RapeRoko initiative demands to set up fast-track courts for sexual assault cases against women and children to ensure completion of trial within six months. It is also advocating the death penalty for child rapists. Recently, Indian Medical Association (IMA) and the district court bar associations have also extended their unconditional support to Delhi Commission for Women's 'Rape Roko' movement.
According to a report published in The Hindu, in a letter sent to Swati Maliwal, IMA said:
"We support the Rape Roko movement, launched….to demand a robust criminal justice system, which ensures cases of sexual crimes against women and children are tried by fast-track courts within six months and rapists of children are essentially accorded death penalty as strong deterrent for others against such crimes."
BJP MP Shatrughan Sinha has also strongly backed the movement against women crime.
Met @ShatruganSinha ji who has fully supported the #RapeRoko movement. He stated that strongest action should be taken against child rapists.

He expressed complete solidarity with the cause. It was a really humbling experience meeting a down to earth person like him. pic.twitter.com/T2aNNgDbi7

— Swati Jai Hind (@SwatiJaiHind) March 7, 2018
Today Swati Maliwal was also arrested by Delhi Police while she was to the Prime Minister's house give letter collected by people from across Delhi.
@SwatiJaiHind has led the #RapeRoko campaign. She's been on Satyagraha for 36 days, to demand fast-track courts, police accountability & stringent punishment for rapists. These are causes we should all support.

Yet, SHE's been dragged into detention by Delhi Police today. Why!? https://t.co/i8yMDGMEua

— VISHAL DADLANI (@VishalDadlani) March 7, 2018
DCW chief Swati Maliwal was appointed by Aam Aadmi Party and people might judge the entire campaign by political. But, increasing crime against women and children has become a reality in the national capital and any voice against such heinous crimes deserves full support.
Met @SwatiJaiHind, she is in DCW, working, for the 25th continuous day. Support all her campaign demands (except death penalty). #RapeRoko https://t.co/K85yso8VpT

— Karuna Nundy (@karunanundy) March 6, 2018
Strengthen the movement launched by Delhi Commission for Women's Chairperson, Swati Maliwal, and help protect our children from sexual abuse. Use #RapeRoko and join the conversation. Make your opinion count. pic.twitter.com/VAG3z44tuG

— Raghu Ram (@tweetfromRaghu) March 6, 2018
Delhi !! Are you ready to #Raperoko ?! See you in 2 hours.

— Caralisa Monteiro (@runcaralisarun) March 7, 2018
Comments