Indian football has not one, but two reasons to celebrate. It clocked a brilliant victory against Myanmar in the Asian Cup qualifiers. If that is not exciting enough, the team's skipper joined the ranks of Christiano Ronaldo and Lionel Messi by becoming the 4th highest goal scorer in the world. How proud we feel right now is beyond words!
The winning goal which gave India a 1-0 lead over Myanmar came towards the end of the game. Sunil Chhetri found the ball near half-line and swiftly passed it on to Udanta Singh. Running in the right-wing he passed the ball back to Chhetri at the corner of the box, beating the Burmese defenders in the process. He hit the ball straight to the nets handing over the nail-biting match to India and breaking a 64 year old jinx – India recorded its maiden win in the country in the past 64 years.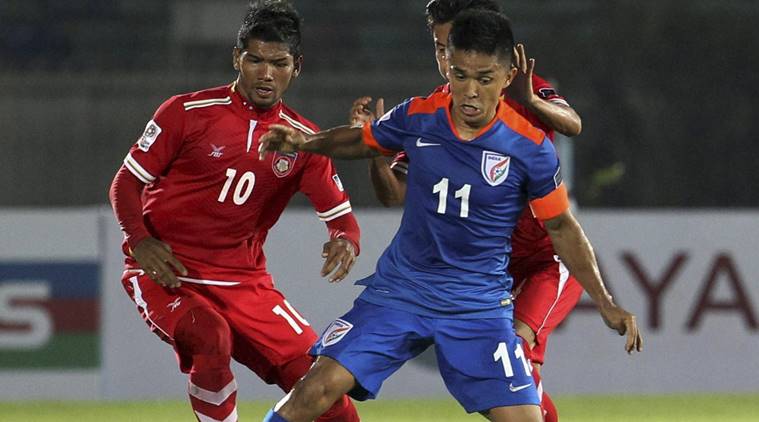 Chhetri has scored a total of 53 goals in his career equaling Wayne Rooney of  England. The list of top goal scorers is owned by Christiano Ronaldo of Portugal who sits at number 1 followed by Argentina's Lionel Messi and USA's Clint Dempsey. Our very own Sunil Chhetri and Wayne Rooney share the fourth spot. Ronaldo has scored a total of 78 goals, Messi 58, Dempsey 56.
.@chetrisunil11 now features alongside @Cristiano, Messi, @clint_dempsey and @WayneRooney! #HistoryMaker pic.twitter.com/hMkWD7J3dt

— HISTORY TV18 (@HISTORYTV18) March 29, 2017
India will be competing against Kyrgyzstan in the ongoing Asian cup qualifiers on June 13.
https://youtu.be/wEtBAC5FaRY
Comments