Sui Dhaaga First Look: Varun & Anushka In An Unrecognizable Look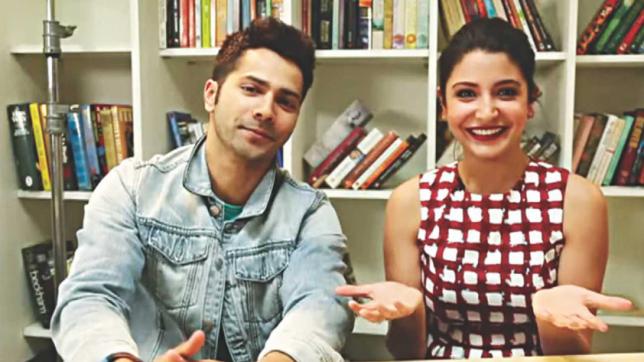 As Anushka Sharma and Varun Dhawan were frequent to be spotted together on sets, it was definite that something was cooking. To make us sure of the their collaboration, the first look of their film Sui Dhaaga which is set to be released on September 28 got released just yesterday and has also left us stunned at the same time. The poster which was posted by both the actors on their social media accounts represents the star in a completely different and unrecognizable avatar. Have a look yourself at the below pictures and decide. 
https://www.instagram.com/p/BfGusw3gi9i/?taken-by=varundvn
The way filmmakers are making their upcoming films go on floors has been totally transformed in recent times. Earlier, there used to be a trailer release and a few songs were introduced to the public few weeks or months before the actual release. But now the creativity of graphics and digital media have replaced the old methods, and we get to know about a new film through several creative pieces like motion posters and teasers. The upcoming flicks like Pari are the most recent example of the same. Not to forget the first still of Vicky and Alia starrer Raazi that left us craving for more. In the same line, the first still of Sui Dhaaga has left us all stunned as the actors have outdone themselves in their excellent looks of onscreen characters. Varun will be seen as Mauji who is a tailor while Anushka will play Mamta an embroiderer. Varun is seen donning a street style shirt with growing beard while Anushka looks like a simple homemaker in a simple synthetic saree paired with oversized mismatching sweater.
Whenever a deglam look is chosen for the actors, no matter how hard the director and producer try, we have seen that there is always a distance between the real-life backdrop and the reel one. But this look is just several notches higher. Both the stars have just nailed it with their genuine small-town appearances oozing utmost simplicity. The credit must also be given to the creators Sharat Kataria (director) and Maneesh Sharma (producer). The duo of Anushka and Varun will be seen together for the first time on the golden screen. While Anushka has definitely adroit in slipping into the skin of the character in her unique style with a touch of 'girl-next-door' feeling, Varun has proved that he is the young generation Govinda with his desi latke jhatke. So, watching this pair on the big screen will be refreshing and delightful. And the brilliant poster has surely set the expectations at a new high.
Comments