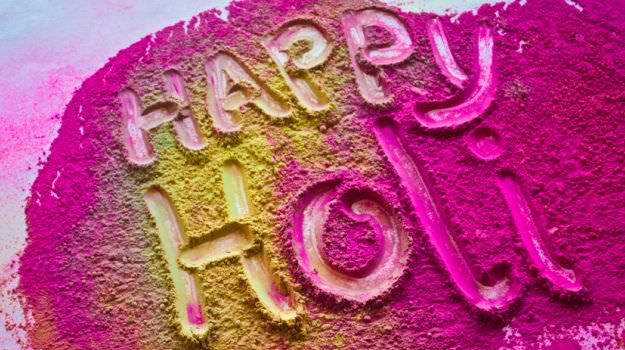 Holi is the time when we treat our loved ones with mouth watering delicacies and sumptuous menus but it is not the same with colours. In spite of knowing the side effects, we still use chemical colours callously; leaving the health of our loved ones in jeopardy. One of the major deterrence is the 'high prices' of organic colours.

But it is not a thing to worry about. You can make all natural colours from your kitchen ingredients. No shopping, no extra expenses.
Red Colour
Dry
Dry red rose flowers, powder it and add some flour to increase the quantity.

You can also use red sandal wood or raktachandan. Grind it in the mixer to make powder.

Wet
Add sandalwood powder in water and make a uniform solution.

Take a spoon of limestone add some turmeric into, mix it well and add water.

Pink Colour
Wet
Take a beetroot, grate it and soak it in a litre of water. Boil the mixture and dilute before using it.

Soak Kachnar flowers (pink variety) in water overnight or boil for a pink color.
Yellow Colour
Dry
Take two teaspoons of turmeric and double the quantity of gram flour (besan). 

Mix them well and use it as gulaal.

Wet
Soak amaltas or marigold (genda) flowers in water. Boil and leave it overnight.
Black Colour
Wet
Boil dried fruits of aamla or Indian gooseberry in an iron vessel and leave it overnight.

Dilute with water and use.

You can also take extract juice of black grapes and mix it in sufficient amount of water to remove its stickiness.

NOTE: These colours are natural made of flowers, fruits and vegetables. They will easily rot, so preserve them in refrigerator to keep them safe.
Comments