'Sanskari' Pahlaj Nihalani is the presenter of erotic thriller 'Julie 2'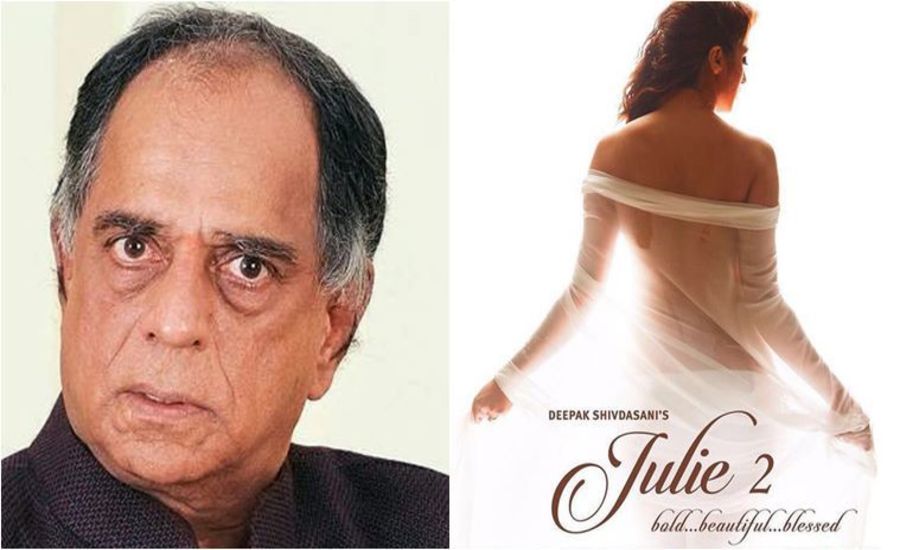 Hard to decide whether it is irony, opportunism, hypocrisy, double standards or plain convenience – former CBFC chief, Pahlaj Nihalani, who was known for his ultra prudish censorship in the name of Indian cultural sensibilities and for notoriously using his scissor to even remove the word 'intercourse' from a movie, is now busy presenting an erotic movie 'Julie 2 – a sequel to the 2004 Neha Dhupia debut 'Julie'.
It has been barely a month since Pahlaj Nihalani was removed from his job as censor board chief and replaced by the lyricist and script writer, Prasoon Joshi.
Nihalani, a movie producer by profession, has done a U turn or rather reverted back to the B grade cine content he was known for during the early and mid 1990s.
The 1-minute teaser of 'Julie 2' is out and it is anything but decent and proper, gone by the faux moralism of Mr. Nihalani. The teaser tantalizes about ample of oomph and skin show in the movie. The official trailer of the movie will be released tomorrow by Mr. Nihalani.
We all remember Mr. Nihalani's stint as the censor board top boss, that was the most regressive in many years. He refused to certify many movies, including 'Udta Punjab', had issues with 'Lipstick Under My Burkha' because it was 'too lady oriented' (yes, that was the rationale by him) and he even wanted to dictate the length of kissing scenes in James Bond movies to be screened in India.
Mr. Nihalani fashioned himself to be the morally upright defender of so-called Indian morality and culture, and it is the irony of the highest order that he is the promoter of a movie that is expensive to have a copious amount of sex and sleaze.
Maybe grapes are sour for Mr. Nihalani now and being disgruntled with the government, he has no qualms in returning to his old professional. Or maybe Mr. Nihalani is simply being the great Indian hypocrite and pseudo moralist.
Comments