Reema Lagoo: strong, cheerful, supportive and understanding mother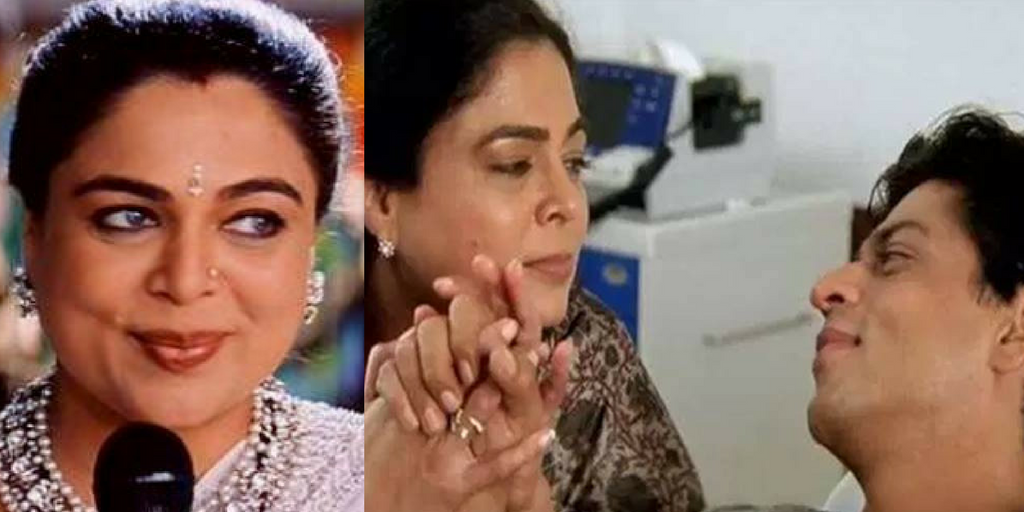 The veteran actor and Bollywood's sweet and traditional mother Reema Lagoo passed away on Thursday night at the age of 59 due to cardiac arrest. The sudden demise of Bollywood's favorite mother and an incredible actor has left her fans and industry-at-large in shock. In her career spanning around four decades, she has played some memorable roles of a strong, cheerful, supportive and understanding mother of some of the biggest stars of Indian film industry.
Maine Pyaar Kiya (1989)
Here she played the role of a supportive and understanding mother who remains firm with her son's love. Though her husband abhors his son as the girl was not of his standard. But the mother supports her son till the end.
Hum Apke Hain Kaun
Here the sweet mother was also famously called as 'Samdhanji'. Reema Lagoo brought up her two daughters (Madhuri Dixit and Renuka Shahane) with great sentiments and great values.
Hum Sath Sath Hain
Reema Lagoo played a beautiful mother's role who tied her whole family with love and sentiments. In this family saga, she played the shades of both progressive and regressive mother effortlessly.
Kuch Kuch Hota Hai
In Karan Johar's directorial debuted film, Reema played the role of Anjali's (Kajol) mother. She beautifully portrayed the role of a mother who understood the frustrations and struggle of her daughter for losing and not finding the true love again.
Kal Ho Na Ho
She knew that her son (Shahrukh Khan) that her son is going to die due to heart disease. Instead of crying, she always supported her son to stay strong and taught him how to live life with joy and positivity.
Vaastav
It is very less known that she grabbed her fourth Filmfare award for the best supporting actress for this movie. Among one of the best roles of her career, she played the mother of a gangster (Sanjay Dutt). The character highlighted unusual side of a mother where she shoots her own son to free him from the quagmire of crime and guilt.
Jis Desh Me Ganga Rehta Hai
A rich family leaves their son to a sheep- herders (Reema Lagoo and Shivaji Saton). They take care of the child with love. The movie took a twist when her son has to go to his real parents but the love of his mother who took care of him from his childhood brings him back. Probably one of the most underrated roles of her career.
Rangeela
She played the role of a daughter who wanted to become an actress. Despite societal norms and male dominated society, she approved her daughter's dreams and supported her. She always knew how to stay progressive while staying in the limits of Indian culture.
Tu Tu Mai Mai
Reema Lagoo not only gave strong roles in movies but also on television. Before Ekta Kapoor's K series, this saas-bahu daily soap was everyone's favorite.
Shriman Shrimati
In the early 1990's, this television daily soap won every family's, heart. The show was around two neighbors flirting each other's wives, but at the end, both of them became fools. Lagoo's amazing comic timing streach everyone's stomach with a laugh.
Comments