Poor air quality stops play at Delhi's Feroz Shah Kotla
Delhi's pollution is already in an alarming situation. The choking air has the transformed the city into a gas chamber and the seriousness of the problem was visible on Sunday when India had a test match with Sri Lanka at Delhi's Firoz Shah Kotla stadium.
Post lunch, the Sri Lankan players were seen wearing gas masks on the field. Captain Dinesh Chandimal, Suranga Lakmal, Lakash Sadakanan and other players were spotted in masks.
The Indian players who came to the field to give water to the players, were seen wearing gas masks as well.
Seeing this, the commentators Sanjay Manjrekar and Russel Arnold expressed their concern and said that it would be difficult for the players to play with masks, especially for the seamers who will find it challenging to bowl.
Sri Lankan captain Chandimal informed that the players were not comfortable at the field because of the low-quality air. Both the captains and the umpire discussed if the game could be continued or not as playing in such dismal air quality could lead to breathing problems. This was the first time in history that a cricket match was stopped in the middle due to pollution problem.
Safety measures were ensured and the medical team was also called at the field so as to check if the players could continue the game or not.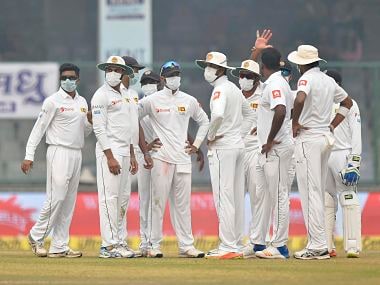 However, after some time the game resumed and the Sri Lankan players were back to their position with masks on.
Comments