Netflix, movies and dance; SRK and Brad Pitt are looking like BFFs in this epic interaction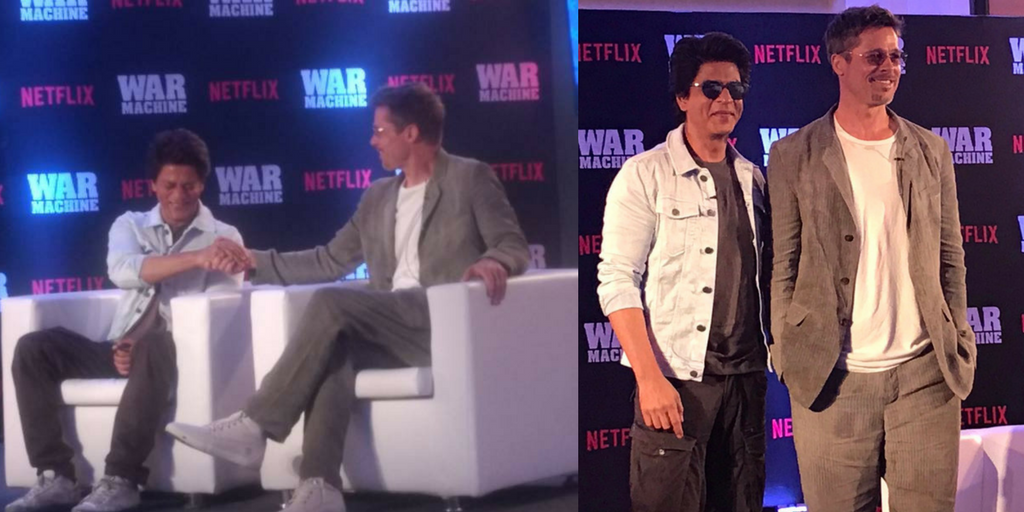 Hollywood superstar Brad Pitt was in Mumbai and was hosted by none other than Shahrukh Khan. He was here to promote his satirical war biopic War Machine. The movie is produced by his own Plan B studios and is a Netflix original production. Netflix will release and stream the movie across the world this Friday.
Brad Pitt indulged in a panel discussion with Rajiv Masand and Shahrukh Khan where they talked about doing passion projects, coping with the pressure of superstardom and being passionate about movies.
Incredibly excited to moderate a conversation btwn 2 of the biggest global superstars: @iamsrk & #BradPitt. Airs tomoro (Thur) on @CNNnews18 pic.twitter.com/o2H1tDh8Sb

— Rajeev Masand (@RajeevMasand) May 24, 2017
Brad also asked SRK "how much time you take to prepare for a dance number?" And SRK was ready with a reply as always. He told how once he took 4 days to rehearse for a song from the movie Badshah.
Brad also talked about at length about Netflix and how it is changing the game for movies being made worldwide. "Because of the way the studio system is, it can't take risks on movies like this, especially with a budget like this," Pitt said.
"The delivery system offered by Netflix means more movies like this get made," he continued.
Brad Pitt later told SRK that he would never be able to make in Bollywood because he can't dance.
https://twitter.com/itimestweets/status/867390302310457346?ref_src=twsrc%5Etfw&ref_url=http%3A%2F%2Fwww.indiatimes.com%2Fentertainment%2Fhollywood%2Fsrk-brad-pitt-give-bromance-a-new-definition-discuss-online-only-films-bollywood-dance-322367.html
The event has a highly private affair with no prior announcements in the media.
Comments