Movie Review: Ranbir Kapoor Does 'Har Maidan Fateh' In Sanju
The movie has been much awaited and talked up for a couple of years now, but how it serves the audience in the end is the point here.
Updated on July 2nd, 2018

Source
Sanju is worth the long wait the audience has borne. It comes out as a solid cinematic experience packaged in form of bumper entertainment, great direction, flawless screenplay and phenomenal acting. At the outset, Sanju is an intelligent film that plays brilliantly with the story and characters in its own favor.
Go about it as just a fictional film if the idea of an entire biopic on Sanjay Dutt's apparently extraordinary life fails to convince you. You will be able to admire it without any bias. The film being about the extremely rocky and bumpy life story of Sanju focuses on the tragedies right from the beginning and goes on to give answers for all the controversies that have ever taken place. It is an extremely entertaining film that will make you laugh and cry whole-heartedly. But from the point of view of a biopic, you might get disappointed as it is more like a self-explaining redemption tale crafted to transform Sanjay Dutt's generic image. 
This is undoubtedly a Ranbir's movie but the characters of Paresh Rawal (Sunil Dutt) and Vicky Kaushal (Kamlesh Kanhaiyalal Kapasi aka Kamli) are instrumental and also drive the film on their shoulders to quite an extent. Paresh Rawal embraces the rational and patient persona of Sunil Dutt who always watches out for his son and tries relentlessly to bring him on the path of righteousness. His personality adds a touch of the retro era of Bollywood and the golden contemporary songs.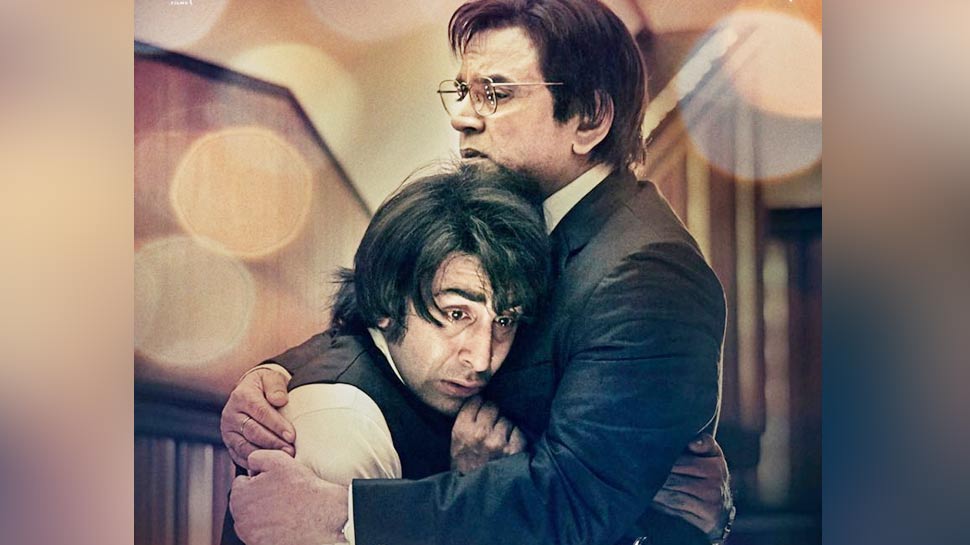 Vicky Kaushal has the ability to rub shoulders with the terrific acting talent of Ranbir and is pivotal in the film all along. In some scenes with Ranbir in it, he is too good with his performance that you will find yourself look at him instead of Ranbir. Brief characters of Anushka & Sonam raise the weight. 
Sanju doesn't look like a complete elaborated account of every aspect that is related to him; for example his previous marriages. The timeline of his life incidents is selective, it conveniently escapes the ones that deal with flaws and are complex to be justified with emotional aspects. But the film is crafted very finely while highlighting the redeeming facets that collectively form a tragic tale that ends well after a stormy voyage. He gets into drugs – because of adult age issues. He becomes womanizer – because he was heartbroken. He kept arms – because he wanted to protect his family. Sanju did and went through everything that is on the records but there is an explanation for each chapter that justifies it on the emotional ground in the film which the fans wouldn't know if not for the film. 
The film is a combination of narrations by multiple people and an automatic account that goes in-between. But the screenplay and direction is so immaculate and stitch everything together smoothly making it a work of intelligent filmmaking.
Ranbir Kapoor has outdone himself by not only stepping in the shoes of Sanjay Dutt but also becoming him. After the movie is finished and the song comes featuring Sanjay Dutt and Ranbir Kapoor individually, you realize that this is Ranbir and the one you have been watching in the entire movie was another person. Manisha Koirala in the role of Nargis Dutt is an emotional touch to the film that enriches it overall.
Dia Mirza in the character of Manyata Dutt is delightful but she doesn't have a build-up for her character or her alliance with Sanju, she is always there by his side from the beginning till the end, but there is not a single scene dedicated to the intimacy of their relationship as a husband and wife. Jim Sarbh is master of all, whatever he does becomes an instance. He does just the same in this film too.
It's not an ideal biopic featuring a flawed characters and the negative aspects without modifications, but Sanju is a terrifically entertaining film that you shouldn't miss if you keep waiting for the good Bollywood flicks.
Comments