Your personality is reflected from your appearance and Kangana's bold personality that she is widely known for is conspicuous in her unique dress sense and style. Just like she ousts her emotions without quoting her words with sugar, her fashion statement is bold and uniquely beautiful. She not only tries unconventional fashion trends but also aces them like a queen. The bold and outspoken diva never follows the mob, but rather believes making her own line. When it comes to experimenting with clothes and shoes, she surprises us every time by teaming up different fashion items only to make us wonder why didn't we think of this earlier.
While we can hardly contemplate wearing saree on as common occasions as being spotted at an airport, Kangana does it flawlessly. Her minimal but loud fashion experiment doesn't end here, she adds the most daring element to her saree attire – the shoes. She teams her saree with casual shoes like loafers and oxford shoes and she has done it not once but multiple times proving she is the only queen of Bollywood. Here is a look,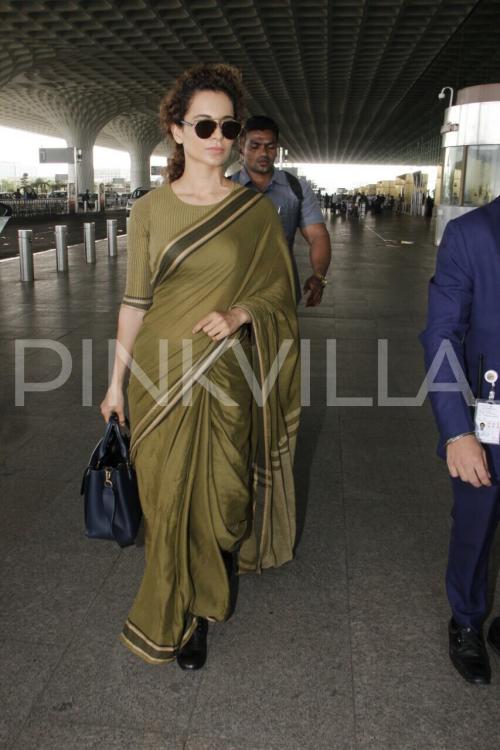 Only Kangana can don a typical white and golden South Indian silk saree with a pair of black loafers, see the below pic and decide yourself.
Who said traditional wear are fussy and boring. If you are Kangana, you make even a saree look as comfy as a pair of your favorite pieces of denim and sneakers. All you need is an oozing confidence and a sense of casual fashion to have a loud and surreal look like her.
And yet again she flashes her Indian side by pairing a saree with tanned boots. Did you even imagine doing that ever?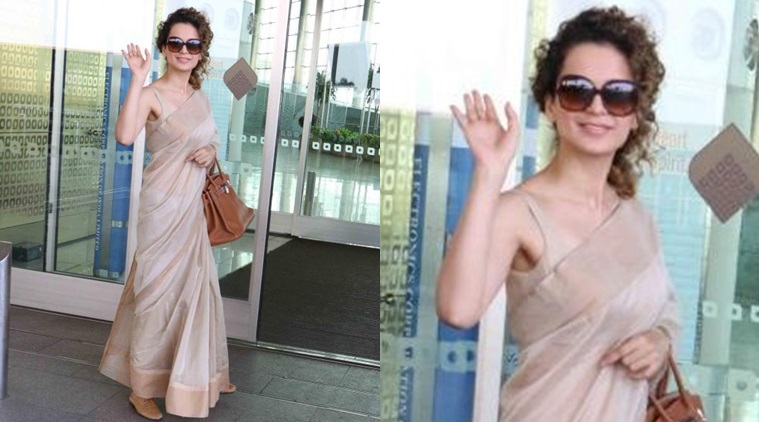 After picking the funkiest shoes ever, she picks the most unconventional blouse for her saree attire, a crop top! You would think of pairing your crop top only with types of denim, skirts or shorts, but Kangana can go with a crop top and saree and look absolutely mesmerizing. See yourself –
If you ever wanted inspiration and a push to go ahead and wear saree like a pro without worrying about maintenance, this is it. You can learn it from Kangana, the queen of beauty and sass that nobody can ever replace. Don't stress overdoing it with perfection, you can rather keep it effortless with the pleats just like Kangana and scour your shoe rack for the coolest shoes to look fabulous and feel confident.
Comments