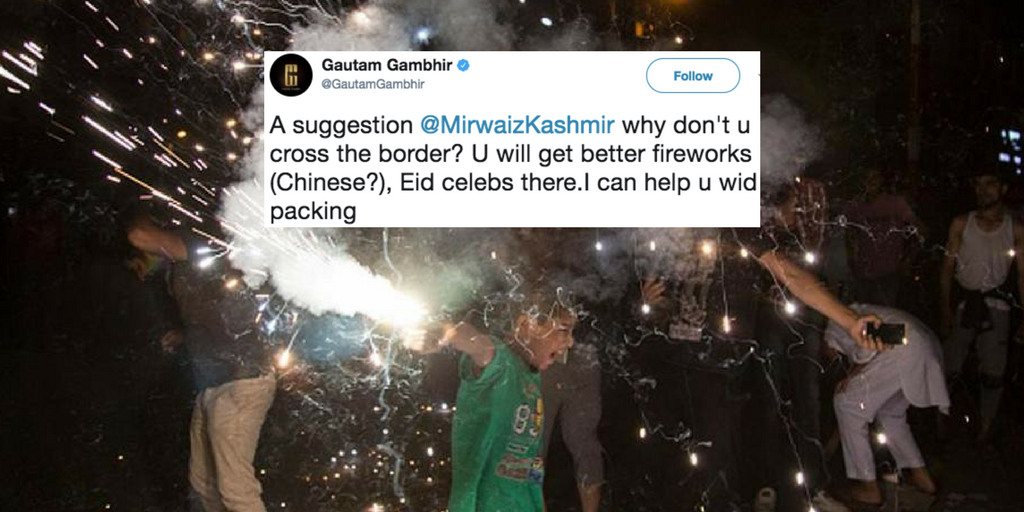 Pakistan defeated India in the final match of ICC Champions Trophy and won the international cricketing event, which is second only to the World Cup, for the first time in its history. Pakistan batted first and its performance was outstanding. India received an unexpected drubbing on the field.
The outburst of joy, happiness, and excitement at this victory was only natural amongst Pakistani citizens and their diaspora. But it was the sheer happiness in Kashmir that was really amazing. Not that pro-Pakistan sentiments amongst the separatist sections in Kashmir is something new, but the euphoric expression and the jubilant public mood was nothing short of a festival. It has raised some uncomfortable questions as to what should be done to instill a modicum of constitutional patriotism in Kashmir and treat the Pro Pak separatist leaders with an iron fist.
And then it is all the more hypocritical when there are claims of so-called Kashmiri secessionist movement being totally independent. These incidents only confirm and validate the extent to which the dubious separatists are linked with Pakistan, and the strong affinity in their hearts for Pakistan.
It is time India government should realize that Independent Kashmir is just a euphemistic buzzword for being a subservient Pakistani proxy state. The level of Anti-India sentiments and love for Pakistan has percolated very deeply in the conscience of Kashmir, and it has wrecked havoc in the lives of generations. But it seems the masses are still being led like sheeple by the wolf-like leaders who play politics on mounds of dead bodies.
The headline in Kashmir Reader, an English daily in Kashmir valley, was "Kashmir Erupts in Joy".
People took to the streets, chanted pro-Pak slogans and burst firecrackers to celebrate Pakistan's victory and India's loss. Pro-Pakistan slogans also blared from the mosques even before the result of the match was officially declared.
Mirwaiz Umar Farooq, a separatist leader of the Hurriyat Conference, congratulated Pakistan on Twitter for the overwhelming victory. He wrote that it seems Eid has arrived early in Kashmir. Indian cricketer Gautam Gambhir was visibly angry at this and he commented that Mirwaiz should pack his bags and go to Pakistan if he loves Pakistan so much.
Fireworks all around, feels like an early Eid here. Better team took the day. Congratulations team #Pakistan

— Mirwaiz Umar Farooqمیرواعظ عمر فاروق (@MirwaizKashmir) June 18, 2017
A suggestion @MirwaizKashmir why don't u cross the border? U will get better fireworks (Chinese?), Eid celebs there.I can help u wid packing

— Gautam Gambhir (@GautamGambhir) June 18, 2017
High time for us Indians to address the elephant in the room and face the disconcerting reality that Pro-Pakistan sentiments in Kashmir are refusing to die down, even after 25 years of conflict bloodletting, militarisation and crackdown on the insurgency.
Comments