Kangana Ranaut plays the badass card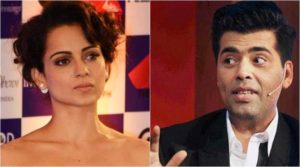 The fiery exchange of words between Kangana Ranaut and Karan Johar is refusing to die. After Kangana made Johar a mute spectator to charges of nepotism in his own talk show,  he came up with an unwarranted advice for the actress. He asked her to leave the industry if she finds it "so bad". He also said that she should stop playing the woman card. Now, in an interaction with Mumbai Mirror, Ranaut has hit back at the film-maker saying that he is no one to tell her to leave, as he is just a paid host for a talk show. Here are some excerpts from the chat :
"But what is pertinent here is: why is Karan Johar trying to shame a woman for being a woman? What is this about the 'woman card' and the 'victim card'? This kind of talk is demeaning to all women, particularly the vulnerable because they are the ones who really need to use them.
I use every card possible. At the workplace, it's the badass card to fight cutthroat competition. With my family and loved ones, it's the love card. When fighting the world, it's the dignity card, and for a seat in a bus, it's the woman card. What is important to understand is that we are not fighting people, we are fighting a mentality. I am not fighting Karan Johar, I am fighting male chauvinism.
Now that Karan is the father of a little daughter, he should provide her with all these cards — the 'woman card' and the 'victim card', as also the 'self-made-independent-woman card', and the 'badass card' that I flashed on his show. We will use whatever we need to ensure no one rocks our boat."
– Kangana Ranaut
Twitter was quick to respond to this very apt riposte,
The spat with Kangana is the most entertaining, meaningful and pertinent thing Karan Johar has produced in a long while.

— Kautuk Srivastava (@Cowtuk) March 9, 2017
Wow Kangana. Don't think there is anyone like her in the Indian public scene who gives it like her. Karan is no match for her. pic.twitter.com/LfncTmcYfo

— QTalker (@QTalker) March 9, 2017
Every time I think of Kanagna Ranaut, I think of the 1000's of girls like her before who have been shut down and bullied by the likes of KJo

— Aditi (@awryaditi) March 9, 2017
Comments