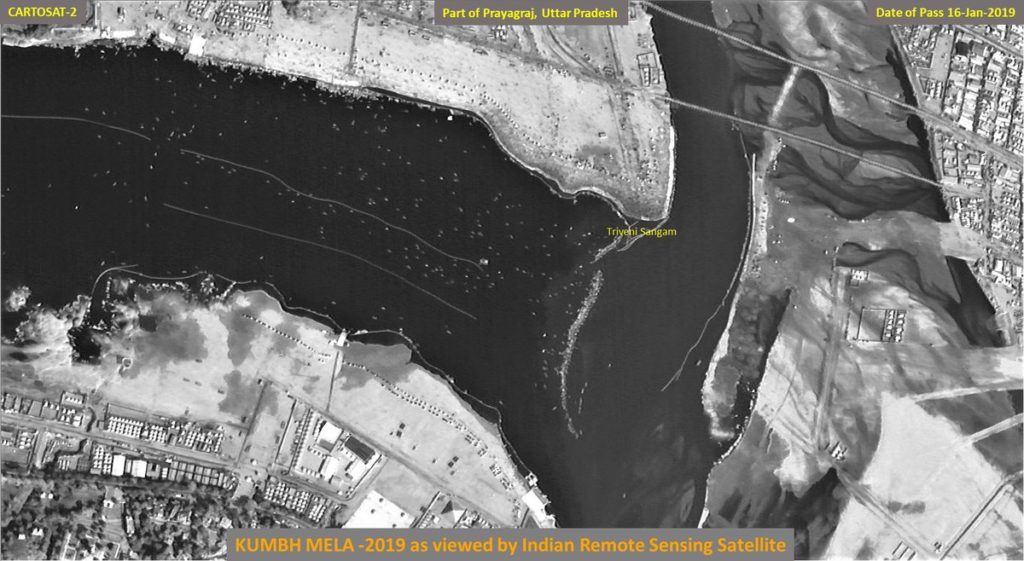 Kumbh Mela, the world's largest religious gathering was captured from space by India's high resolution earth imaging satellite CartoSat-2. Termed as the world's biggest festival, Kumbh Mela is happening in Prayagraj from January 15, 2019 to March 4, 2019. On the first day itself, over 2 crore devotees took holy dip in Sangam. Over 50 crore people are expected to visit the holy place during the mega-festival of faith.
On Thursday, ISRO's satellite captured miraculous image of the Kumbh Mela in which confluence of river Ganga, Yamuna and mythical Saraswati can be seen clearly. The massive area of Kumb Mela is spread of 32 square-kilometre and includes over 5 kilometre of bathing ghats.
These are two images captured by Indian Remote Sensing Satellite #Cartosat2 showing key areas in and around #KumbhMela2019. pic.twitter.com/NSmixXV7Ga

— ISRO (@isro) January 17, 2019
ISRO is assisting the authorities by releasing daily weather forecasts for the Kumbh Mela. Indian Meteorological Department has set up fixed and mobile stations for the same.
Comments