Is Karan Johar 'Intolerant' Towards Kangana Ranaut's Views?
There has been a war-of-words between Bollywood actress Kangana Ranaut and director Karan Johar. Karan Johar said that "if Kangana finds the industry so bad, she should leave it". He also added that she should stop playing victim card. Backdrop of this statement is the National Award winning actress's invitation, along with Saif Ali Khan, to Karan Johar's flagship Koffe with Karan show.
At the show, Kangana was at her brutally honest best and poured her heart out, without the usual sugarcoating and formal, flowery statements that celebrities are expected to routinely dish out. She criticised many things about the film industry, including gender inequality, how backbiting and being double faced is so common, and there are always people to pull you down. She also reminded Mr Johar that he used to mock her English language fluency when she was yet not an established and renowned actress. Kangana called him " the flag bearer of nepotism " in the industry, an allegation which, I believe, is little unfair because Karan Johar hasn't promoted any family member in movies. At the show, both Saif and Karan were dumbfounded and rendered speechless. Saif was adjusting his cuffs and gazing at the ceiling while Karan was just calmly listening to Kangana.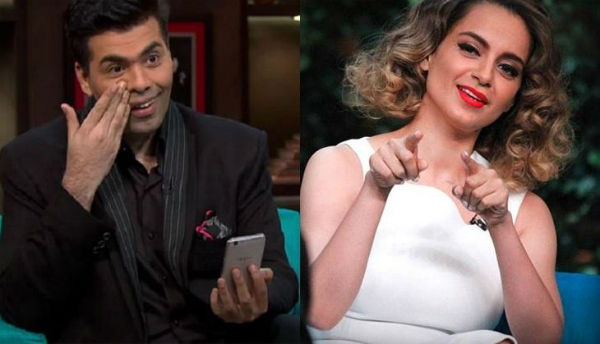 While one may agree or disagree with what Kangana said, but Karan Johar has no right to tell her to leave the industry. And ironically Karan Johar proclaims himself to be a liberal, someone who stands for free speech and social tolerance. Is this the tolerance he espouses. ?
Does criticism of Bollywood or a contrarion no-holds-barred, scathing critique by an industry insider means he/she should better leave Bollywood. ?
Just like those who criticise the incumbent government and the ruling party should pack their bags and leave India. ?
What rankled Karan Johar is the fact that Kangana Ranaut minced no words and refused to go by the dramatised script and unspoken, unwritten omerta of not saying anything critical of the honchos and czars of bollywood, and instead say everything flowery and laced with dollops of saccharine.
Karan Johar ran out of words because maybe for the first time he encountered an actress both unapologetic, unfazed by what her peers might think, and in-your-face blunt.
Comments