Eastern Peripheral Expressway : India welcomes its first green and smart expressway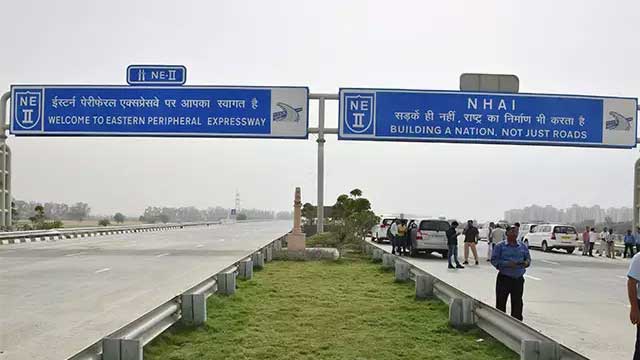 Prime Minister Narendra Modi on Sunday inaugurated India's first green and smart highway. Built at a cost of 11,000 crores, the highway spans across 135 ks with rain harvesting provision on every 500 meters on both sides and smart challan and tolling mechanisms. The Kundli-Ghaziabad-Palwal expressway also known as the Eastern Peripheral Expressway is built to provide signal-free connectivity between Ghaziabad, Faridabad, Palwal and Greater Noida. This project is expected to reduce congestion and pollution in Delhi by diverting around 52,000 cars. As per a tweet by Nitin Gadkari, Minister of Road Transport and Highways, this project will reduce commercial traffic by 30%.
ईस्टर्न पेरिफेरल अपने आप में देश का पहला एक्सिस कंट्रोल ग्रीन फ़ील्ड एक्सप्रेस-वे है। इससे दिल्ली का 27% वाहन प्रदूषण कम होगा और दिल्ली का आधा ट्रैफिक घटेगा।#PragatiKaHighway pic.twitter.com/dBbK7QRm6x

— Nitin Gadkari (@nitin_gadkari) May 25, 2018
Built in a record time of 500 days, this project was planned in 2006 following an order from the Delhi High Court to plan a ring road outside the periphery of Delhi to divert traffic that is not directed towards the national capital. The road is technologically advanced as well, as there will be automatic challans for over-speeding and tolls will be taken only for the distance traveled.
A total of 2.5 lakh trees have been planted near the highway with a provision of drip water irrigation. The roads are 100% powered by solar energy, earning it a distinction of being a "green expressway". There are replicas of 36 national monuments including Ashoka Lion, Konark Temple, Qutab Minar, Char Minar, Hawa Mahal, Jalianwala Bagh among others.
The gargantuan project has consumed 11 lakh tonnes of cement, 1.2 crore fly ash, and 1 lakh tonnes of steel. 9,375 manpower was employed to build it and it generated an employment of about 50 lakh man-days, according to Union Minister Gadkari.
Comments