BHIM App Launched: What you need to know?
Prime Minister Narendra Modi recently announced a digital payments application called BHIM (Bharat Interface for Money). It is based on the Unified Payments Interface (UPI) and is currently available only on Android. In the future, the app will support Aadhar-based payments as well wherein you will be able to transact with just a fingerprint impression.
We have tried and answer a couple of questions you might have about the latest step towards digitizing the Indian economy:
What can BHIM do for you?
If you have enabled UPI payments on your bank account which is linked to your mobile number, you can use the BHIM app to transact digitally. Based on UPI from the National Payments Corporation of India (NPCI), it is an easy way to conduct digital payments. You can send money to accounts or addresses that haven't enabled UPI. For those who don't have a UPI bank account, money can be sent through IFSC or MMID code.  You can also scan a QR code to make a direct payment. You can create your own QR code for a stipulated amount of money which could, then be scanned by the merchant and the same amount will be deducted from your account.
What exactly is UPI?
Launched in February 2016 by NPCI, UPI enables payments with mobile as a primary device by creation of a 'virtual payment address' or VPN that is an alias for your ban account. It can be in the format of <mobilenumber@upi> or <username@upi>. This primary address can be used to send or request money to IDs linked to it.
Is BHIM app like PayTM or Mobikwik?
No, not exactly. If you have money in your PayTM wallet, you can't transfer it to someone using MobiKwik. BHIM works on UPI and the person you are sending money to just needs to have a bank account to be eligible to receive money from you. Whether he/she has the BHIM app is inconsequential. If your friend or relative has UPI activated on their bank account, you can just ask for their VPN, that is, virtual payment address and send money to them without needing their bank account number or other details.
Does my bank support BHIM?
The list of banks supporting BHIM for UPI payments is pretty exhaustive. Here, have a look : Andhra Bank, Allahabad Bank, Bank of Baroda, Axis Bank, Canara Bank, Bank of Maharashtra, Central Bank of India, Catholic Syrian Bank, Dena Bank, DCB Bank, HDFC Bank, Federal Bank, IDBI Bank, ICICI Bank, Indian Bank, IDFC Bank, IndusInd Bank, Karnataka Bank, Indian Overseas Bank, Kotak Mahindra Bank, KarurVysya Bank, Punjab National Bank, Oriental Bank of Commerce, South Indian ank, RBL Bank, State Bank of India, Standard Chartered Bank, Union Bank of India, Syndicate Bank, Vijaya Bank and United Bank of India.
How does BHIM work?
After a process wherein the app verifies your mobile number, it lets you choose your preferred bank account. The verification is done by an SMS sent via your phone's SIM. It is, therefore, preferable that you verify the same number that is linked to your bank account. Thereafter, you are required to set a 4 digit password. After this, you will get an option of choosing from the list of relevant banks. If UPI is activated on the same, it will be reflected in the account number and you will see options of sending money, receiving money and sharing with IFSC code.
If not, you will have to enter six digits of your debit card and the corresponding expiry date. Your UPI pin will be created and you can perform the desired functions.
You can now send money to anyone by typing in their mobile number or VPA address. The user receiving money will be verified and the transaction will be authenticated using a UPI pin.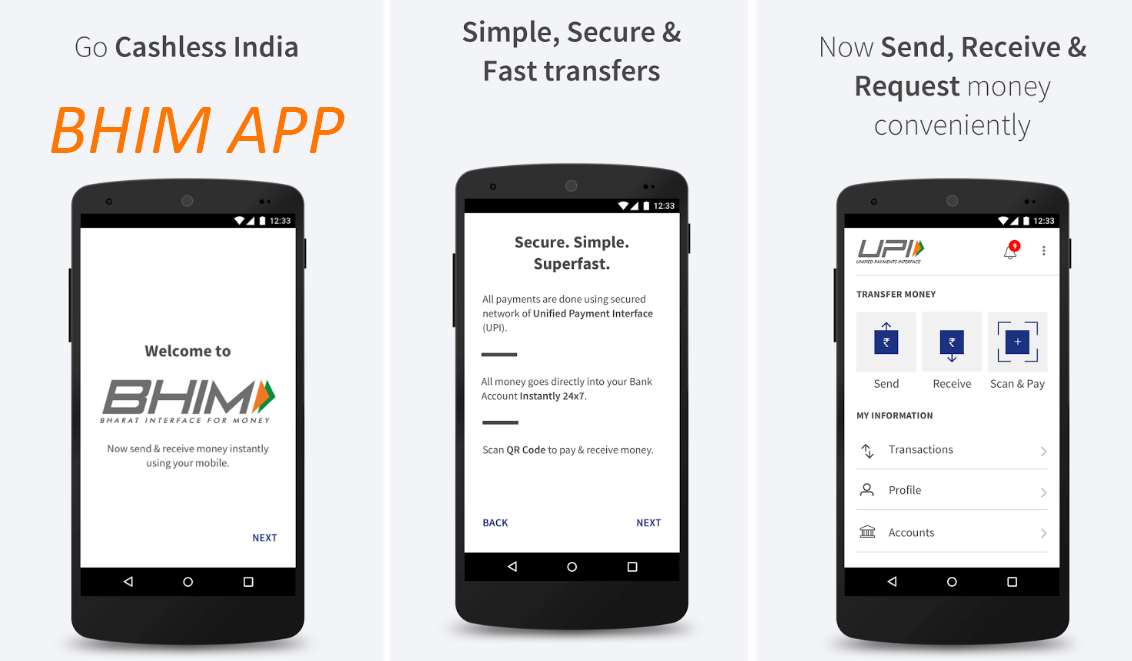 BHIM app is government's initiative to strengthen the digital economy after the surprise demonetization drive which made 500 and 1000 old currency illegal tender. To make sure, BHIM becomes the default payments app for India's 1 billion strong population, efforts should be made to improvethe digital infrastructure of the country.
Comments