Beginnings Are Always Hard | Part 4 | The Journey Of Dhirubhai Ambani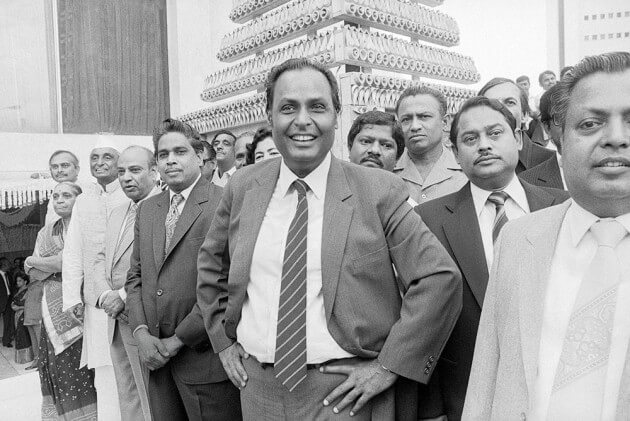 Reliance Industries Limited is India's most valuable company in terms of market value. What started off as Reliance Commercial Corporation in 1960s as a polyester business has now, diversified interests in the field of petrochemicals, energy, infocommunication, retail, natural resources, and natural resources. Helmed by Mukesh Ambani, the Reliance Group came into existence by a man of unmatched business acumen, Dhirubhai Ambani.
In the 4th edition of Beginnings Are Always Hard, we will take you through the life story of Dhirubhai Ambani, who came in Mumbai with a 500 Rs. note in his pocket and a dream to do big. Not many are aware of this, but Dhirubhai had a captivating presence in the field of politics from an early age. Born in a baniya family in Junagarh, he was elected as the General Secretary of the Junagarh State Union when he was in school. Under the British rule, he went against the orders of the Nawab and organized an Independence Day rally.
In independent India, he campaigned for the candidates of Socialist Party in the municipal elections. All the candidates he campaigned for, registered thumping victories. As is said by way of a famous Hindi saying, " पूत के पैर पालने में ही दिख जाते है", Ambani's influencer power was just a precursor to the immense clout he was going to hold as an industrialist in the coming years.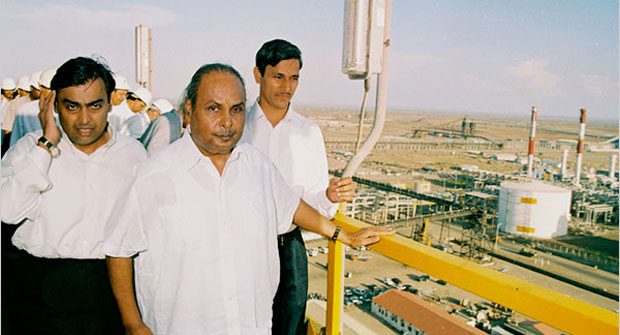 His education came to an abrupt break when the frugal living conditions at home forced him to join his elder brother Ramniklal in Adel, Yemen. In Adel Ambani worked in a clerical position at A Besse. & Co., a transcontinental trading firm. His knack for smart speculative trading brought profits for him, no matter where he decided to invest his worth. Seeing his caliber at trading, he was promoted to the oil filling station. This is where he first harbored the dream of founding his own oil refinery.
As conditions in Yemen became hostile for immigrants, he had to move back to India in 1958. Putting his trade acumen to use, he founded a spice trading business, under the moniker of Reliance Commercial Corporations. He traded spices, jaggery, sugar, betel nuts to Gulf Emirates. His business model was based on three important things: low profits, rich quality, and heavy volumes.
Not the ones to be contented, he soon shifted his focus to yarn trading, which although offered higher dividends, involved greater risks as well. Thanks to some high-value deals, he soon got enough capital to set up his first textile mill in Naroda, Ahmedabad in 1966. By 1972, Reliance gained a respectable market status and won a nod of excellence from the World Bank, speeding up the upgradation of all its plants.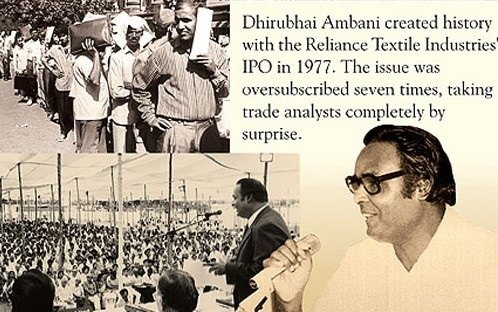 In 1977, the Reliance Group created history when its first ever IPO (Initial Public Offer) was oversubscribed seven times, taking the trade analysts by complete surprise. In the 80s, both his sons, Mukesh and Anil Ambani joined the business and gradually, the Reliance group diversified into a number of other industries. No success story is without its share of competition and controversies. The Reliance Group faced tough competition from the Nusli Wadia led Bombay Dyeing Group. There were even much-publicised allegations against the staffers of the Reliance Group plotting to kill Wadia. Then, during the regime of VP Singh, the company was almost brought to its knees. Like a true struggler, Dhirubhai kept the mast high and veered the Reliance Group through each and every problem in his trademark "street-smart" manner.   
Business world swears by the saying, "Your network is your net-worth" Dhirubhai personified this by way of his incredible influencing skills. He dreamt of making his mark in the entrepreneurial world and did just that by sheer dedication, risk-taking ability and some street smart business maneuvers. If you are a budding entrepreneur, Dhirubhai should be your textbook example of how to strike the golden bell and achieve the impossible.  
Comments