Updated on February 11th, 2018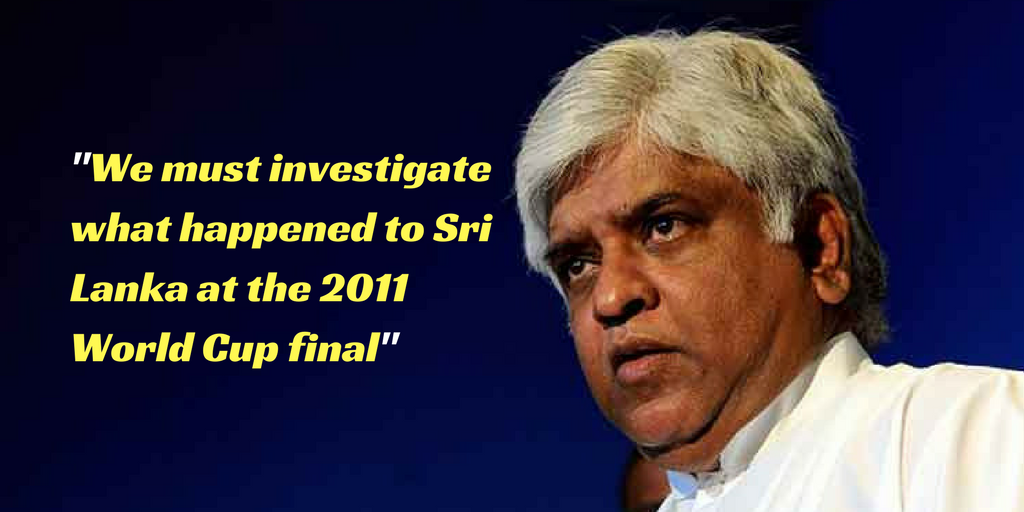 Allegations of match fixing in international cricket are not new at all and players of repute have been found guilty in the past. Former Sri Lankan captain Arjuna Ranatunga has asked for an investigation into Sri Lanka's defeat in 2011 World Cup final by India.

Ranatunga posted a video on Facebook and said that he was really shocked by Sri Lanka losing by 6 wickets in the final match of cricket's biggest tournament.

Times of India quoted Ranatunga as saying "I was also in India giving commentaries at the time. When we lost, I was distressed and I had a doubt. We must investigate what happened to Sri Lanka at the 2011 World Cup final."

In the final match against India in 2011, Sri Lanka batted first and scored 274-6 at the end of 50 overs. Sri Lanka seemed in a very strong position but the tables were turned because of extraordinary performances by Gautam Gambhir and Mahendra Singh Dhoni.
Ranatunga has written to both Sri Lankan President and Prime Minister, complaining about cricketing affairs in the country.

Sri Lankan Sports Minister Dayasiri Jayasekara says he wants to regulate agents in cricket to prevent match fixing by individual players.
Sri Lankan cricket team received heavy criticism when they lost a series to Zimbabwe on home soil this month.
Comments