A film delegation with 0 women met PM Modi. Naturally, Twitter is aghast
Where are all the women?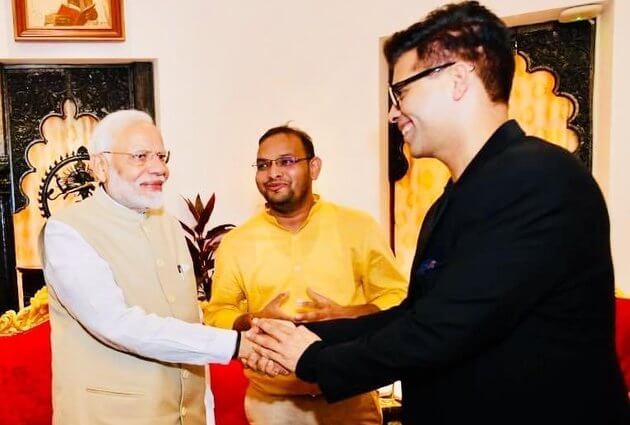 Prime Minister Narendra Modi held a meeting with a delegation from the film industry, and it had 0 women. Naturally, that has evoked some strong reactions from the Twitter community.
Would be great to have female representation in these delegations. It is 2018. https://t.co/HoxGbptgwX

— Alankrita Shrivastava (@alankrita601) December 18, 2018
And there's NOT a single woman film-maker, director, writer, actress in this frame. The Boys still rule Bollywood. #bollywood https://t.co/2l3e1FjwYM

— Mistress of Vices (@cyclopsee) December 18, 2018
And not one woman to represent the Indian film industry! #WhereAreAllTheWomen https://t.co/sEDnK6vOFY

— Sameera Khan (@samjourno123) December 18, 2018
Even after #MeTooIndia, no one cared to include even one woman in the delegation. https://t.co/khSQ2g3Egh

— Surbhi Gupta (@bysurbhigupta) December 18, 2018
Where are the women?? Is female representation not a necessity? Seriously? Women create and contribute in this industry as much as men. And the truth is that we have it much harder in every field!! It's 2018 folks. #Gender #WhereAreAllTheWomen @narendramodi @akshaykumar https://t.co/S4RGH6IQqo

— Saumya Baijal (@saumyabaijal) December 19, 2018
The delegation was meeting to discuss lower and uniform GST rates for the industry, increasing the density of cinema screens across the country, and empowering cinema as a soft power. It included film producers Karan Johar, Ritesh Sidhwani, Siddharth Roy Kapur, Prasoon Joshi, Ronnie Screwwala, Prasoon Joshi – the chairman of the Central Board of Film Certification (CBFC) and actors Akshay Kumar and Ajay Devgn.
Many who criticized the meetup for absence of women pointed towards the fact that even after the #MeToo movement churning such a storm, especially in the media and entertainment industry, the women could not find a space in the meeting.
#MeToo The industry could not find a single woman to attend!!!@IndiaMeToo @TheRestlessQuil @sandymridul @annavetticad https://t.co/0m46bXvAl2

— Druss Reacher (@myqueries137) December 18, 2018
Looks like the womenfolk from the film and entertainment industry seem to have nothing worth sharing with the PM of the country. Maybe all the harassment, casting couch, pay gap, misrepresentation and sexism must have been addressed already? https://t.co/cea12BkMCN

— Calling Out Stalking (@CallOutStalking) December 18, 2018
Where are the women of the industry? https://t.co/KGMcg8J2J9

— #MeTooIndia (@IndiaMeToo) December 19, 2018
Others highlighted the important women who are a part of the industry but were conspicuous by their absence in the event.
As always, aghast to see that the Hindi film industry team meeting the PM is an ALL MALE team. Unbelievable. We have senior women directors, actors and producers. Where are they?@AzmiShabana @TheFarahKhan @meghnagulzar @gaurikhan

What say, @BDUTT of these manels? https://t.co/DOPmQPdyzB

— Meera Harish (@meeraharish) December 19, 2018
This absence becomes even more problematic as it is not happening for the first time. Earlier, in October, a delegation consisting of Aamir Khan, Rajkumar Hirani, Aanand L Rai, and Siddharth Roy Kapur had met PM Modi to discuss how the film fraternity can be instrumental in the objectives of nation building. We haven't heard an official comment from the Prime Minister's Office or CBFC chairman Prasun Joshi yet, on the zero attendance of women.
Comments