5 ways in which Varun Dhawan could have apologized to Kangana, but he didn't
Updated on February 11th, 2018
Varun Dhawan tendered an apology on Twitter for taking a dig at Kangana through the 'Nepotism Rocks' statement at the IIFA 2017 award function. But the apology wasn't directed at Kangana, it didn't even mentioned Kangana's name and seemed more like a 'To whomsoever it may concern' generalised tweet. If Varun genuinely felt like apologizing then at least he could have courteously named her. He wasn't oblivious of the backdrop of the whole matter and what all he was doing.
I express my apology and regret .. I am extremely sorry if I have offended or hurt anyone with that act..

— Varun Dhawan (@Varun_dvn) July 18, 2017

Here are 5 ways we suggest in which Varun could have apologized to her:

1) Dear Kangana, Karan used me for settling his own scores against you and I got carried away.

2) Dear Kangana, it's true that being born and raised in elite privilege, I am indifferent to what the strugglers go through.

3) Dear Kangana, I am sorry. Nepotism maybe bad but please see the alternative view and try to understand that many here wouldn't have got their dream debuts and successive movies after a string of flops, had it not been for nepotism.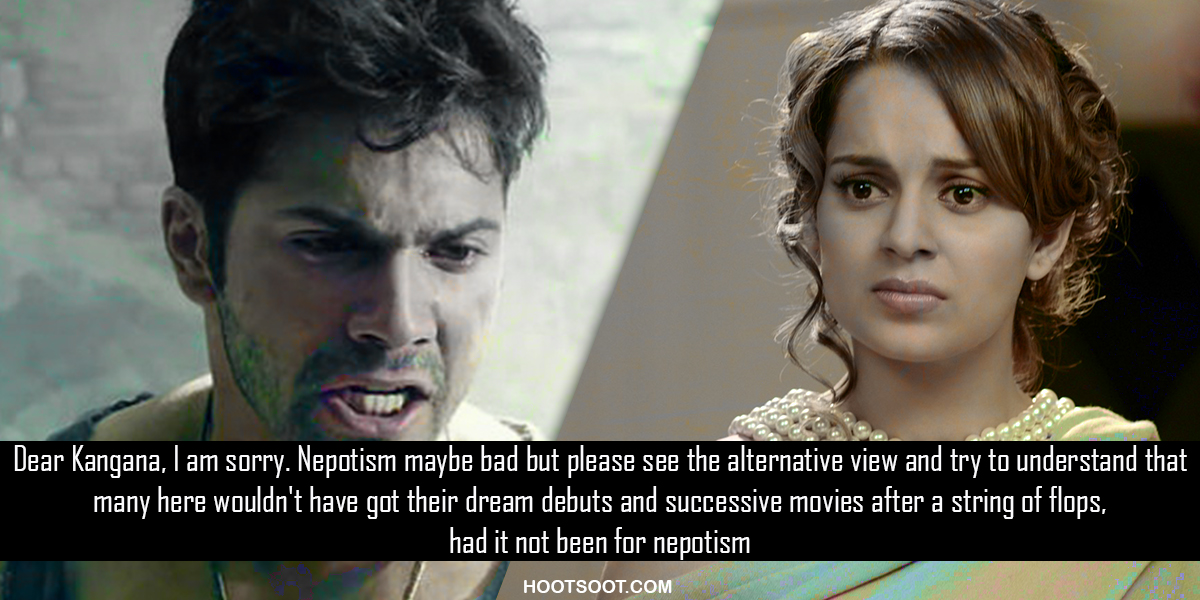 4) Dear Kangana, I realized that I was being obnoxious by flaunting my privilege like a gallantry award.

5) Dear Kangana, I know my first recognition and identity in Bollywood was solely as son of director David Dhawan.
Comments