5 points you can consider to choose between Munna Michael and Lipstick Under My Burkha
Munna Michael and Lipstick Under My Burkha released this weekend. If you are still flummoxed and unable to pick the 'best' among both the releases then keep on reading.
1) Subject
Munna Michael is a dance drama whereas Lipstick Under My Burkha is a women-oriented social drama.
2) Plot
Munna Michael is based on the life of a young aspiring dancer who is a great fan of Michael Jackson and teaches dance moves to a Delhi-based land mafia. Until both the dancer (played by Tiger Shroff) and the gun toting mafia( Nawazuddin Siddiqui) fall for the same woman. The story lacks the pace and continuity.
Lipstick Under the Burkha drew the attention of our prudish CBFC much before it was released. The movie was deemed to be offensive to their ultra conservative and patriarchal social mores. Many decried it to be sleazy. The story is about 4 women of different age groups and different backgrounds who live in Bhopal. Burkha is a metaphor for the societal hypocrisy and the various stifling restrictions that women have to face, while lipstick represents their innermost yearnings and desires. The movie has a good message without being didactic.
3) Performance
Munna Michael has some good dance moves and imitation of Michael Jackson's Moonwalking, but it fades in acting. Even Nawazuddin Siddiqui is not at his usual.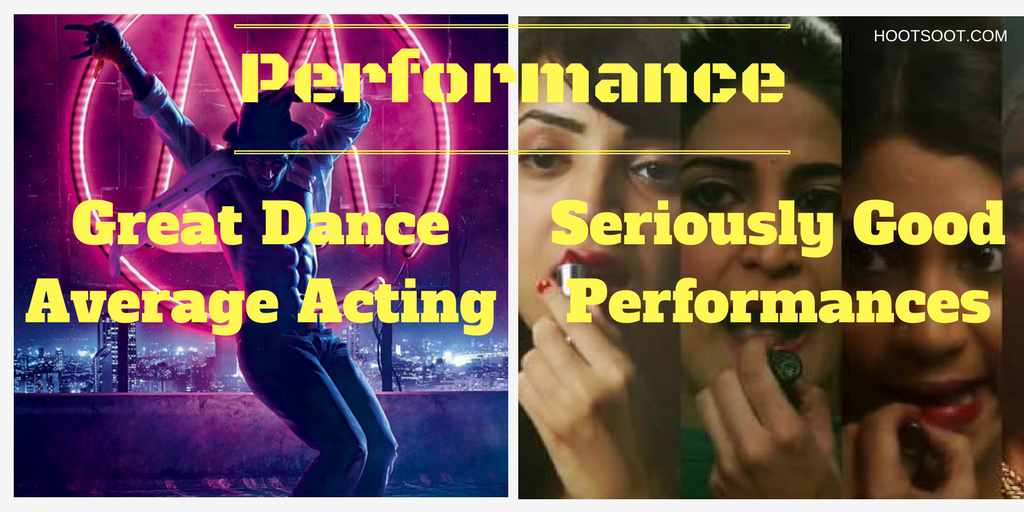 Lipstick Under My Burkha is a serious story told in a delightful manner. The acting of all the characters looks very natural and free-flowing.
4) Story
Munna Michael might have been made as a tribute to Michael Jackson or an Indian version of a movie based on dancing talents. But it is boring!
The best thing about Lipstick Under My Burkha is the complexity of the characters and the convergence of their shared experiences. Munna Michael is too predictable and clichéd beyond a point.

5) What To Look For
The USP of Munna Michael is only and only dance. In Lipstick Under My Burkha it is everything from the character build-up, to story, pace and social message.
Lipstick Under My Burkha is a conversation starter, it opens our eyes about women's perspectives in day-to-day life whereas Munna Michael is just another dancing movie with a love triangle (the classic Bollywood staple).

If you are looking for a comic romantic movie, Munna Michael won't live up to the expectations, while Lipstick Under My Burkha surely makes a gripping watch you shouldn't miss.
https://www.youtube.com/watch?v=0_7hsKOu43Q
Comments