5 Important Life Lessons You Can Take From Sachin Tendulkar's Career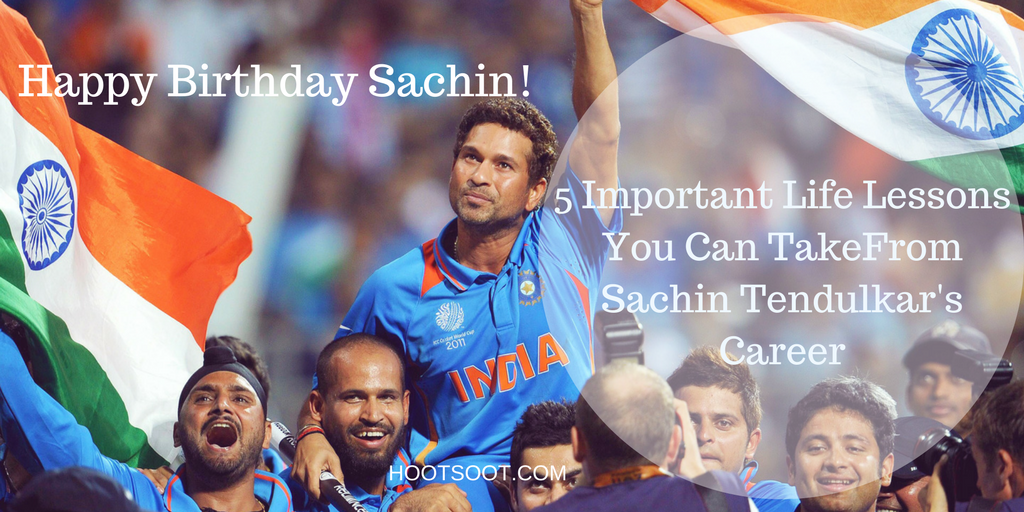 For the fans of Cricket, particularly Indian fans, the game is divided into eras; pre-Sachin and post-Sachin era. All that has happened in between has stayed immortal and will remain so for the coming ages. Because it was an epoch of hard work, class, commitment, discipline, consistency and fighting against all odds to meet the expectations of a billion cricket fans. Nobody has managed to do it like Sachin Ramesh Tendulkar. Ever. Sachin..Sachin..Sachin still resonates in the ears of every true fan.
'I was fielding in the covers when Tendulkar came out to bat in his debut Test at Karachi. I still remember Waqar Younis was in peak form at that time. Tendulkar tried to drive Waqar through the covers off his very first ball in Test cricket but was beaten all ends up. But I walked to captain Imran Khan and told him 'this kid looks very good' and Imran agreed with me – Abdul Qadir
This incident itself reveals that the 'God of Cricket' was the luminary in making from the very first start. From then to till now, the man has never failed to inspire fans from all over the world. Apart from displaying batting talent of epic proportions in the game of Cricket, Sachin has knowingly or unknowingly left some indelible life lessons which we can learn from his celebrated career spanning over 24 years.
World Cup Victory – Dreams Do Come True. Never Stop Dreaming
Sachin Tendulkar has played 6 editions of the ODI World Cup and it was his last tournament in 2011 in which he finally realized his dream of winning a World Cup. Before that, India was stopped by Australia in the final match from winning the coveted trophy in 2003 under the captaincy of Sourav Ganguly.
It took 24 years for the God of Cricket to make his dream come true. All he did was never stopped trying to achieve his dreams.
Father's Death – Your Duty Towards The Nation Is First Priority
There are some incidents in life which make you dejected and it takes a lot of time to start the normal again. But Sachin didn't have had much time in the 1999 World Cup. India wasn't doing too well in the tournament and desperately needed to win the game. Putting behind the grief of his father's loss and rising up to the occasion; Sachin smashed 140 runs not out against Kenya. After hitting the century, he looked at somewhere from where nobody has come back.
Every fan had tears in their eyes seeing his sheer commitment and focus towards the nation. This incident was big enough to call him a God.
200 Runs In ODI – Strive For Excellence
This record is the testament of the fact that Sachin Tendulkar has not only broken records but have also created records. Before Sachin, many players reached near the magical figures of 200 runs but nobody was able to convert it into an ODI double century. Sachin scored the magical number of 200 in 147 balls by hitting 25 fours and 3 sixes against South Africa in Gwalior.
Interesting fact about this double century is that he scored it in 2010 at the age of 36 years when normal Cricketers are either planning to take retirement or struggling to keep a spot in the team.
Gave Up Captaincy – Admit Your Weakness
Greatness is in admitting your weaknesses and flaws. It is a much-discussed fact the Sachin Tendulkar was never a great Captain. In fact, after a losing a couple of series against Australia and South Africa, he resigned as the captain of team India. He admitted to the fact that he is unable to concentrate on the game by being held responsible for losing crucial series. And the rest is history.
Many people call it a selfish move, but in retrospective, we would have lost a wonderful Cricketer had he not realized his weakness and given up the captaincy.
Mentoring Players Like Virat Kohli, Yuvraj Singh and M S Dhoni – Help And Let Others Use Your Talent
If there is one thing that every young Cricket player wants; it is some Cricketing tips from the God of Cricket himself. Current captain Virat Kohli, sweet hitter Yuvraj Singh and most successful captain of Indian Cricket have admitted in several conversations about how Sachin has played a crucial role in shaping their careers.
In fact, in 2007 when Rahul Dravid gave up captaincy, the then BCCI chief Sharad Pawar personally offered captaincy to Sachin Tendulkar. As expected, Sachin denied the offer but recommended M S Dhoni for the top job. This is how 'captain cool' was born.
"We have had champions, we have had legends, but we have never had another Sachin Tendulkar and we never will – Time Magazine
Happy Birthday Sachin!
Comments