10 times Ranveer Singh defined the I-don't-give-a-damn-attitude
Ranveer Singh is an actor whose off-screen persona is even more magnificent than his on-screen presence. His dramatic public appearances which are often accompanied by an uninhibited imposition of individuality is truly incredible. The unabashed actor has a sense of dressing up which is capable of putting even the most outrageous outfits at shame. Social media has a field day trolling him when he ventures in one of those outfits. The glitz and unapologetic chutzpah in his off-screen persona is kind of an orchestrated performance that is made to behold.
Here are some of his most defining I-don't-give-a-damn attitude moments that make Ranveer Singh the wackiest actor in the contemporary times,
When he attended the 2015 wedding of Bollywood director Nitya Mehra with Karan Kapadia, a close friend of Ranveer Singh 
This very public display of affection 
This impromptu rap by the forever brimming with energy guy 

When he photobombed Sonakshi Sinha with this rather cheeky pose 
Even the actor's lady love could not be spared from his photobombing self, 
This rather candid confession about his sex life,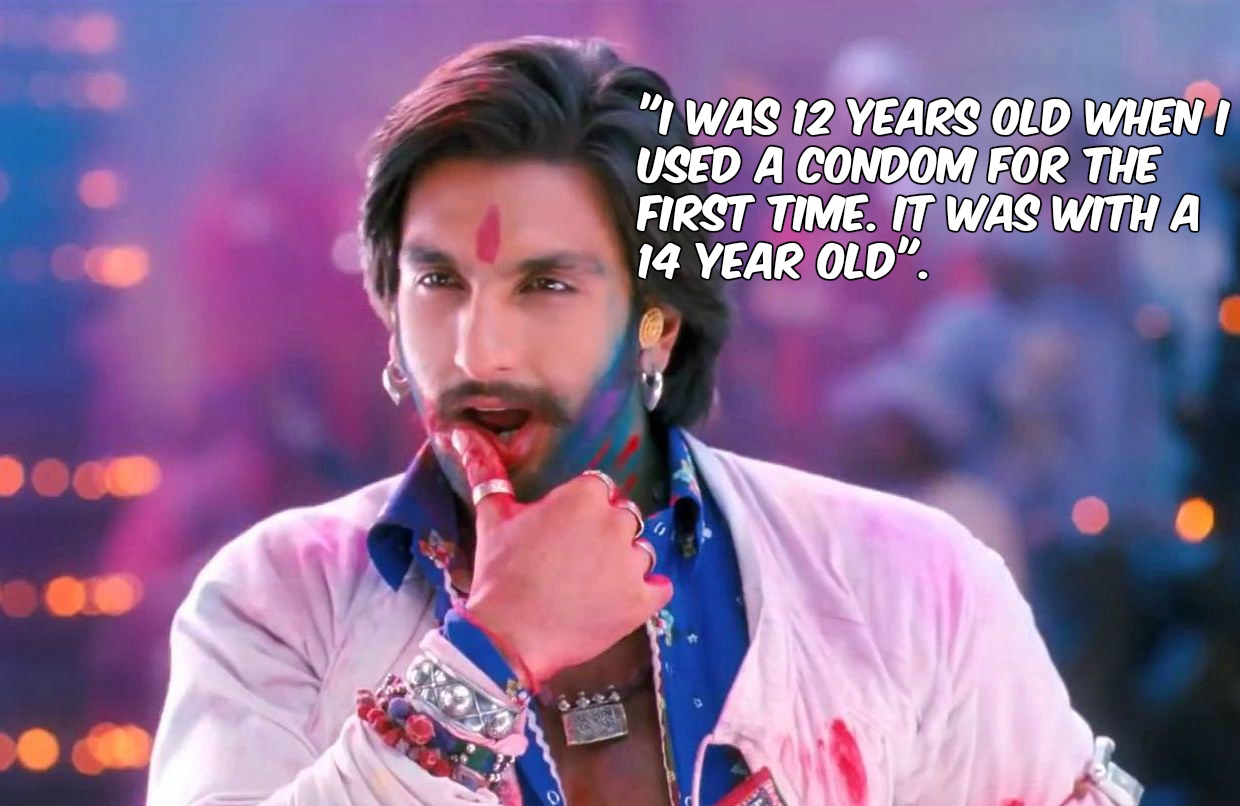 This statement which was a revelation of his coming of age, as far as relationships are concerned, 
When he got defeated by Baba Ramdev in an epic dance battle 
When he dressed as a condom and sperm at the same time 
#RanveerSingh does look like a sperm cell #onesie pic.twitter.com/TzNdo5McmL

— Naufal Khan (@naufalkhan) February 20, 2017
Apna protection pehenke chalo.#RanveerSingh pic.twitter.com/wKn8URs1gs

— Raavan ◢ ◤ (@RaavanTweets) February 20, 2017
When he DID THE REX
and this awwwdorable exchange of flying kisses between Deepika Padukone and the man himself at IIFA  Madrid 2016
Bring me one another male actor in the Hindi movie industry who has done everything from blowing kisses to his lady love to talk about his sex life to wear an outfit which is nothing short of a condom to be absolutely confident of himself at all times, no matter what and you can take all my money.
Ranveer Singh is a one of his kind. You can not deny it!
Comments